Psychic Proof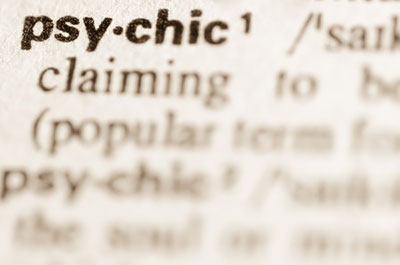 In our line of business it is much too easy to get caught in the trap of being told that the work psychics are doing is disingenuous or insincere, or worse.
Yet, with the trail of live commentary on the Internet and the feedback system on websites, a lot of fraud has been prevented and eliminated in recent years. Most of our clients usually come back to us, because we have a history and reputation for accuracy.
The realm of phone psychics is a deep world of intelligent, successful and curious women who love to talk, but often I have found them to be the most insightful friends and teachers I have had the pleasure to engage with. When we establish a relationship with a client we begin a mutual spiritual journey and an experience in trust.
Skeptics squat by the road like guardians of truth, letting no one pass who doesn't come up to scratch. They never realize that they can see only what their paradigm tells them to look for. If you judge a person only by how well he plays pool, Mozart won't pass scrutiny. The fault is in your lens ~ Deepak Chopra
The professional relationship I have with my clients is not based on naiveté or gullibility, as it is sometimes claimed in so-called psychic industry exposés by the media. My clients are typically astute internet users who have thoroughly researched and studied the online psychic market. They know the industry and they know their psychics well, all across the Internet. They are certainly not naïve, and definitely not the kind of people who are easily taken advantage of.
It always perplexes me to hear about skeptics making us seem so predatory, when the clients are the ones who are experts at finding and selecting us. They love making use of our services, because to them it is like the experience of a spa, tea with a best friend, or an alternative to a vacation they cannot have because they cannot take the time from work. Instead of shopping for more material things, these educated, well-informed people simply wish to discuss their relationships, work goals, or spiritual growth.
So, we continue to be questioned by some writers, filmmakers, testers, scammers, maligners, and well-meaning skeptics who don't understand our beliefs, abilities or the work we do. Every industry is open to scrutiny and I mostly welcome all arguments and questions. As professional psychics most of us are up for the debate, and when someone asks a nonsensical question we can always give them an interesting answer.
About The Author: Carmen Miro

Carmen's waking dreams have provided accurate glimpses into the future for celebrities as well as political and international figures. Her non-judgmental, Empathic approach, as well as her unique method of Tarot reading, affords her the reputation as a groundbreaker in her field. This European born Canadian is the first online psychic to promote the idea of Empathy and emotional thought transference, and she has written a great deal on the subject. For a comprehensive Intuitive reading that will transform your life, you can find Carmen at PsychicAccess.com.