Beware Of False Psychics And Fake Mediums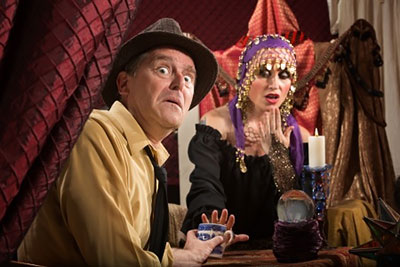 Getting psychic readings from the wrong people can wreak havoc in your life. Don't trust everyone that claims to be a psychic or a medium. Not everyone has the metaphysical gifts to read into the future, or speak to departed souls on the other side.
True psychics and mediums are always empathetic to people's needs and a reading with them should always be a calm and uplifting experience. Do genuine psychics always get it right? No, sometimes they do not. But they are always truthful, either way. The true psychic will always be completely honest with the client, not just give them stories. They will not simply tell you what you prefer to hear. And they will admit when they are not sure, or when they feel no real connection with your energy.
Never be afraid to raise your voice for honesty and truth and compassion against injustice and lying and greed. If people all over the world…would do this, it would change the earth ~ William Faulkner
A person that is not a true psychic will speak in riddles, or they will try to scare you to make more money with their scams. I just get so angry when false psychics and mediums give genuine, gifted psychics a bad name! If a 'psychic' wants to charge you for spell work, curse removals or to clear negative energy, or anything of that nature, end the reading immediately and seek guidance elsewhere.
You must always feel comfortable with your psychic. I do believe everyone has an intuitive ability, so always trust your inner guidance. It never fails. If you feel uncomfortable with what a psychic is telling you, then trust your intuition. It  is just like when you go to a doctor; you need to find one that you're comfortable with. Don't just trust anyone – you're well-being and happiness is too important!
Having psychic abilities and being a medium is something that I treasure. I never take my gifts for granted. True psychics and mediums share their gifts for the greater good, never for the bad. This is why I love working on Psychic Access with other legitimate psychics and mediums. I am proud of the work we do there.
Remember, a true psychic will give you their time and authentic compassion. A true psychic or medium will be honest with their clients, and not just sugarcoat the truth. And although they are being brutally honest, they will always be compassionate.
About The Author: Sabrina

Sabrina has worked as a professional psychic since 1989 and owns her own successful psychic business. Prior experience includes employment with prestigious psychic companies, which served as an excellent training ground that eventually afforded her the wonderful opportunity to go into business for herself. For over twelve years, she has dispensed psychic counseling and changed the lives of more clients than she can possibly count. Her aim has always been to empower people with choices so they may fully utilize the free will given to them by the Higher Source. You can get a psychic reading from Sabrina at PychicAccess.com