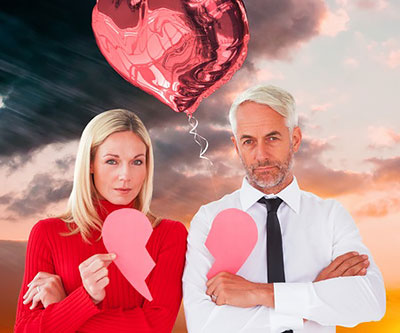 I'm not sure that "soulmates" are all they're cracked up to be. I used to imagine that having a soulmate would make my life more beautiful and very romantic. I couldn't wait to find my soulmate and I faithfully held a vision of the perfect relationship.
I thought that finding my soulmate would satisfy that longing for the perfect companion and partner in life. I imagined that we'd be inseparable and understand each other completely, and my life would magically launch up to a new level of happiness. After some experience I'm not so sure having a soulmate is any kind of path to happiness and harmony, or a problem-free partnership for that matter.
I believe now that finding my soulmate partnered me with someone who activated my biggest life lessons. One of the unique qualities I share with my soulmate is that we are indescribably bound by love, and no matter what we do or how much time goes by that we've seen each other, it feels like it was yesterday when we met. There is that deep knowing that this is special and it's like 'coming home.'
Our soulmates seldom appeal to our personality—our ego. That's why they are called soulmates rather than egomates ~ Carolyn Miller
It's inexplicable sometimes, when you have a connection with a person that causes you all kinds of grief and pain and you're still hanging on and wondering when they'll be back. I believe there is an energetic cord between the two of you. It's a real connection and it goes deep and it doesn't go away, just because life becomes difficult. We face our most difficult life lessons with our soulmates and they can be the catalyst for some inner drama.
Our soulmate might not be there to hold our hand and comfort us when we need it, in fact they might even be holding someone else's hand, but the connection you have with them is still there and it's strong and deep. Some "soulmates" try to move on to another relationship trying to avoid an important life lesson, because life lessons aren't fun. They're a lot of work.
My soulmate is a pain in the neck. I think he's the most wonderful and special person in the world though. No one can ever take his place or walk in his shoes, or be 'him' to me. But he's also been the most difficult relationship I've ever had and the most painful relationship I've ever had, yet the most glorious relationship I've ever had. There have been long breaks between "us" as we haven't always been together in the physical, but we've always been together in spirit and bound by an invisible energetic cord which always brings us back together again, no matter how far we stray. That can be a magical and wonderful thing and it can be the hardest thing and sometimes the most difficult thing to explain to yourself and others.
People think a soul mate is your perfect fit, and that's what everyone wants. But a true soul mate is a mirror, the person who shows you everything that is holding you back, the person who brings you to your own attention so you can change your life ~ Elizabeth Gilbert
You know that weird look you get when you mention the person that others have seen hurt you and the reaction you get from them, and maybe even yourself, is "I can't believe you're still talking about him and holding on." But when you're soulmates that's just how it is. You are connected through thick and thin and somehow in the end you've both learned a big life lesson from having known each other. It's not always easy and it's not always pretty so I think having a soulmate isn't all it's cracked up to be, but I can't and wouldn't want to imagine my life without my soulmate.

PsychicAccess.com.


Stacy is a talented Medium, Healer, Bodyworker, Reiki Master, teacher and entrepreneur living in a cozy hideaway on the Central Coast of California. She possesses a variety of Clair gifts and is well versed in metaphysical practices. Stacy has spent thousands of hours reading for patients in Hospice and has honed her gifts without the need of any outside tools! She's been an active seeker of knowledge, wisdom and experience for forty years and feels inspired to share her gifts as a spiritual counselor and healer with others to ease suffering and clear confusion that sometimes clouds our truth and higher purpose. She works with Angels and Guides to bring their peaceful, loving and transformative messages to her clients. If you'd like to experience Stacy's inspirational energy for yourself, you can find Stacy at