Oh, The Gift of Solitude!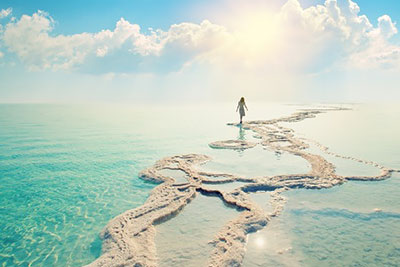 I truly enjoy my alone time. I have enjoyed it since childhood. I was often teased by a great-aunt, who lived with us while I was growing up, about the famous silent film actress Greta Garbo who reputedly said, "I want to be alone…" Looking back, I believe my aunt was correct – this has become my personal mantra!
I was mostly a loner as a child. I felt no one understood me and my heightened sensitivities, so I learned to enjoy my own company. When I was in the presence of others, it was difficult to acclimate myself into their company. As I have grown older and discovered more about myself, I do truly love my solitude.
Now, mind you, I love being around people. But there are also times, as I have learned being the water sign of Pisces, that I need to be wrung out. I feel like a sponge absorbing other people's energy. I do use the psychic protection of energetic shielding, but I still absorb other's energies when I do psychic readings and energy work.
Our language has wisely sensed the two sides of being alone. It has created the word "loneliness" to express the pain of being alone. And it has created the word "solitude" to express the glory of being alone ~ Paul Johannes Tillich
I also believe solitude is best when I need to charge my spiritual battery. When you are of service to others, I have learned by giving the gift of solitude to myself helps me in turn to help others. I also get very, very, very grumpy and testy when I do not get my time alone! I am an absolute 'bear' to be around, if I do not get at least an hour alone to myself.
In-between phone calls, readings, engagements, and travelling, having some alone time helps me to gain a different perspective. I am no longer impatient wanting to get something done. Instead leaving something be and letting it rest does get it done faster, in my opinion. I sometimes need to step back from a situation and be in solitude to just let things "be." I believe being in solitude lets the situation rest, if need be, and gain a new idea or solution to a problem or situation that has been eating away at me.
When my clients or friends come to me complaining about being alone, or more likely being lonely, I advise them to take advantage of it. Especially if they are single wanting companionship, love, and affection. I advise them to enjoy it, because when the love of their life finally comes along, your alone time goes out the window. I realize not everyone likes to be alone. In fact, some people view it as a social disease that needs to be quelled. I do not share such a view. Personal solitude enhances my quality of life. Period.
I think that I cannot preserve my health and spirits, unless I spend four hours a day at least — and it is commonly more than that — sauntering through the woods and over the hills and fields, absolutely free from all worldly engagements ~ Henry David Thoreau
There are some ways I have learned to gain my solitude amidst the insanity of family, friends, and other social situations. I love to walk in nature. I can be with a group of people and still walk by myself, tuning the outside world out. I also feel reading spiritual material and journaling helps you to know thyself. I feel the more comfortable you are being by yourself, the better off you are as a person. Besides, you have only yourself when you come into this world, and you have only yourself when you leave this world. Why not make friends with yourself?

About The Author: Angelic Amy

Amy's two near death experiences (NDE's) pushed her natal psychic abilities into overdrive and her story is featured in a famous psychic medium's new book! She's experienced a rich life full of more ups and downs than most encounter in a lifetime, which has only helped her connect to her clients on a deeper level. Tapping into her clairvoyant, clairaudient and Mediumship abilities, Amy is a prominent radio show host, has appeared on other radio shows, and is a popular Tarot reader at Psychic Fairs and parties. This native New Yorker is an experienced energy healer, a Reiki Master, and channels gentle Angelic energies through an Integrated Energy Therapy Technique. It's an honor for Amy to help you in your time of need. If that time is now, you can find this gifted psychic at PsychicAccess.com.