A Basic Introduction Reading Tarot Cards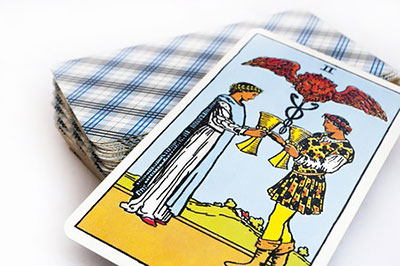 Many people come to a Tarot reader wanting to find out about the future. They seem to think that the future is set in stone and so they can be told exactly what is going to happen. They want the reading to "predict the future." The reality of Tarot is that it offers guidelines. The reader looks at the cards, interprets them, and then tells of the probable outcome.
Many people can read Tarot cards, but to be really good at it does take a practice, and good intuition or psychic ability goes a long way. The best way to learn Tarot is to learn the meanings, hold the cards, shuffle them, and feel what they are telling you. You also need to practice, practice, and practice. The most recommended Tarot deck to start with and learn with is the Rider-Waite Tarot. The pictures are clear and they seem to work best for beginners.
Remember that the Tarot is a great and sacred arcanum – its abuse is an obscenity in the inner and a folly in the outer. It is intended for quite other purposes than to determine when the tall dark man will meet the fair rich widow ~ Jack Parsons
There are 78 cards in a Tarot deck. The first 22 are known as the Major Arcana. The cards are symbolic and focus on the material world, the psychic world, and change. The rest of the cards are the Minor Arcana. They are divided into four groups: Wands, Cups, Coins (or Pentacles)and Swords.
These four groups are themed cards. Wands symbolize work, ambition, and enterprise. Coins symbolize the material part of life like finances, wealth, and money. Cups are all about emotions and relationships to self and others. Finally, Swords are about conflict and morality.
Reversals of meanings can also come up when the cards are laid down into a Tarot spread. Reversals happen when a Tarot card is placed upside down. Some readers will see these cards as meaning the opposite of the upright meaning. It is as if the energy of the upright card is blocked.
For instance, the two of Cups comes up reversed. Upright this card's meaning might be interpreted as "people meeting that are friends or lovers." It means "connection." It can also mean "engagement" or "wedding." If this card is reversed the upright energy is changed so it might instead mean "missing a meeting" or "being late for a meeting with a friend" or "an engagement or wedding falls through." These are just a few possible meanings.
Divination is the quest to understand more about the past, present, and future. In other words, Tarot readings are an attempt to understand ourselves better and discover how we might live better in the future ~ Theresa Francis-Cheung
Another way that reversed cards can be read is just not to read them. There are those readers that will read reversed cards the same way that they read upright cards. They disregard reversed meanings. Whatever a reader's interpretation of reversals may be during a Tarot consultation, it is important to also listen to one's own intuition. Your intuition will tell you what meaning to use for a situation.
In summary, Tarot is a very useful divination tool. It is not meant to predict the future, but is more meant to tell what is likely to happen if the same path is traveled. Tarot looks at most aspects of life and provides wisdom to many situations. With the use of intuition almost anyone can use the Tarot to do reading and to gain knowledge.
SOURCE: Tarot 101: A Basic Overview by Patti Wigington.

About The Author: Mataya

Mataya's Light Readings are a gift from a higher source that she's worked hard to develop throughout her life. She understands more than most what it's like to struggle with emotional and physical roadblocks and with a Masters in Counseling, she has spent many years using her natural psychic gifts and acquired knowledge to see clients through difficult patches. Since 1988, she's professionally guided others, using Tarot and other divination tools, at various psychic fairs in California. She's worked one-on-one with clients in metaphysical shops, and enjoys a successful online practice. She's channeled energies from her guides and passed on accurate information to her clients. A true Sensitive, Mataya takes on the energy of others, feeling and sensing their challenges. Her name came to her out of the blue one day and she has since learned that Mataya mean's God's gift. If you'd like to experience Mataya's incredible gifts for yourself, try a reading with this compassionate and accurate reader. You can find Mataya at PsychicAccess.com.