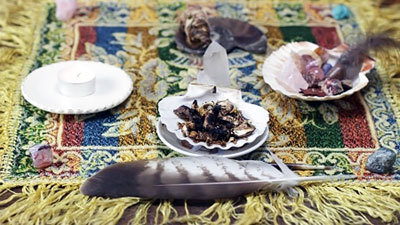 There is enormous power in prayer. There is enormous power in thought and intention. The ways in which you pray, think and focus are reflected in your physical, everyday life. Combining the spiritual and the mundane into your present moment can enrich your soul and enhance the quality of your life.
The ways of doing this are endless, but one way I enjoy is to create a personal altar. You can make an altar anywhere and place anything on it, as long as it represents the quality you want to concentrate on and develop. Creating an altar is very personal, because it is the way for us to connect with our spirit and align ourselves with our intentions. It helps to remind us of these things even in the midst of a busy day.
Wherever an altar is found, there civilization exists ~ Joseph de Maistre
Your personal altar can be as simple or as elaborate as you wish and you can create it in your home, in your car, in your backyard, or even in your pocket. You can create your personal altar literally anywhere, on a table or ledge, in a corner, in a cigar box or in a pottery bowl. You can have one altar or over a dozen all at once.
An altar is ultimately about you and your spirit, and refocusing on your spirituality and bringing it into the mundane tasks of the day and resonating with it no matter how busy you are. A special item that you choose to place on your altar is simply meant to help you think, pray, meditate and listen to the spirit within you whenever you connect with it.
As you select items for your altar, it's most important to be clear about your intention.  The items you place on your altar can be large or small, simple or exotic, just as long as they are meaningful to you. An item can be one small thing, a pebble, a shell, a feather, a poem, a conversation, a hope, a gratitude, a longing noted on a slip of paper. The intention of what you place on your altar and what it represents is more important than what you actually place on your altar. Intention can be put into any object, so it's important to concentrate on your purpose as you select a particular item. Focusing your intention on what the item represents is what matters, and connecting with it throughout the day will help you realign with it spiritually.
In selecting an item for your altar, you may want to consider the metaphysical, energetic or healing properties traditionally associated with certain items, like crystals and gemstones for instance. Crystals and gems have energetic and healing properties of their own that vary in many ways and can support your intention. The possibilities are endless.
May our effort, confidence and concern for others be the altar from which we pray for personal abundance ~ Laura Teresa Marquez
You may also feel drawn to plants, flowers or herbs. They each have a unique energetic and medicinal quality and can promote great healing from nature, and represent different qualities that can support you. You can use fresh or dried flowers, a branch of a tree, or you can place a picture of a plant or flower or tree that means something to you on your altar.
Drawing from Native American culture and tradition we can honor the presence of an animal representation as a guide or teacher, counselor or protector. An image or symbol of a certain animal can go everywhere with you in your pocket to give you an overall sense of safety and personal power. I personally have a special relationship with wolves and birds, and I have a representation on my altar to remind me of that special relationship.
Incense is a pleasant way to create a link between spirit and the mundane, so you may want to include that. Most importantly it's what is most meaningful to you and what helps you to clarify your intention and align your spirit and energy in a simple yet powerful way throughout the day.

PsychicAccess.com.


Stacy is a talented Medium, Healer, Bodyworker, Reiki Master, teacher and entrepreneur living in a cozy hideaway on the Central Coast of California. She possesses a variety of Clair gifts and is well versed in metaphysical practices. Stacy has spent thousands of hours reading for patients in Hospice and has honed her gifts without the need of any outside tools! She's been an active seeker of knowledge, wisdom and experience for forty years and feels inspired to share her gifts as a spiritual counselor and healer with others to ease suffering and clear confusion that sometimes clouds our truth and higher purpose. She works with Angels and Guides to bring their peaceful, loving and transformative messages to her clients. If you'd like to experience Stacy's inspirational energy for yourself, you can find Stacy at