Automatic Writing Using A Pendulum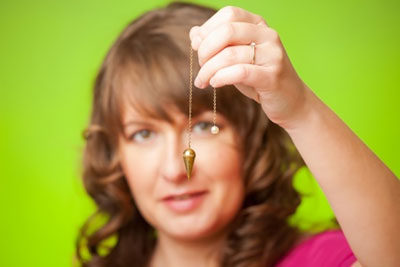 Automatic writing means writing without conscious thought and is essentially a way of channeling messages from Spirit and the subconscious. Instead of physically writing on paper, I personally use a pendulum and an alphabet chart. Some mediums write on paper, and others employ automatic drawing.
In preparation for a session with myself or a client, I first clear the energy in the space around me, my pendulum and my chart. Then my guides show me who is present by each moving the pendulum in a specific pattern that they have chosen. I ask permission to know the answers I seek. Very rarely have I been denied, but always for a reason. Usually either for myself or a client, it's because of thinking too much about the subject. Spirit is saying: "Stop It!" I call that "tough love."
History has always been a series of pendulum swings, but the individual doesn't have to get caught in that ~ Robert Johnson
In my spiritual practice, I use the information that comes through automatic writing to hit "reset," or get to the more neutral state of being. I take time out to meditate on what I've learned, letting go of stresses and regaining perspective. I feel more firmly planted or "grounded after this ritual." I've cleared out the daily stressors and put them in their places, knowing that each in its turn will be handled.
Automatic writing can be similar to using an Ouija board, in that lower entities can interfere. Automatic writing is different because one has greater control to stop and clear them before continuing. I find that my method is less scary than the Ouija board. When there is lower-level interference, the pendulum starts swinging wildly and gives me gibberish or "bad" advice.
When my spirit guides come through, I can tell who is communicating with me by the language and sentence structure used. Most often it is Metatron, the celestial scribe, who comes through. Archangel Michael also plays a prominent role.
For those who wish to employ automatic writing, first practice using and training your pendulum. When you are comfortable, and have a reliable relationship with your pendulum, it's best to be in a meditative state and clearly connected with your Guides when using this method of divination.
About The Author: Dianna

As a conduit to Spirit since birth Dianna provides channeled information from her Guides, Archangels, Ascended Masters & Animal Spirits. During readings, information comes to her through telepathy, empathy, visual images and physical sensations. She additionally uses Automatic Writing for very specific details and timing, Tarot and the Lenormand Cards. Dianna's specialties are providing you with remarkably accurate answers to your questions using her psychic consciousness to assist you in reaching new and rewarding goals. A Libra/Aquarius rising with three grand trines in her chart, Dianna has chosen to use her psychic gifts and Reiki Healing Energy to help others, providing practical answers to life's questions plus healing and clearing blockages. You can get a psychic reading from Dianna at
PsychicAccess.com.


This site uses Akismet to reduce spam. Learn how your comment data is processed.