Without True Love Silence Can Be Deafening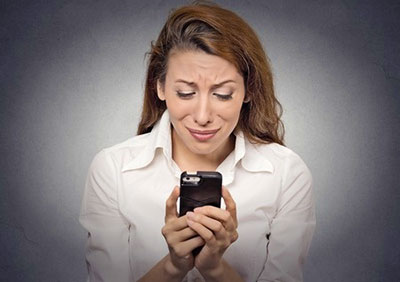 How you communicate is as important, if not more important, than what you say. It is how you say it and not just what you say that matters.
Many psychic reading calls I receive on PsychicAccess.com are from people asking about love, dating and relationships. The caller is often distraught, because the person they have affection for is not returning their calls, texts or emails. Either they have broken up or they have had a fight, and the fight seems to be going on for weeks with no communication.
Typically, person A has reached out to person B, who either ignores the communication or responds in a quipped, short manner. Person A flips out, and B has no idea that A is freaking out. Person A then begins to act a little 'cray cray,' because B is not responding and continues to remain silent.
Silence is only frightening to people who are compulsively verbalizing ~ William S. Burroughs
Silence can be deafening. It screams a lot about what B is feeling and A is usually too wrapped up in feeling ignored to back track to the original communication. If B is not responding, you need to pull back and think about why instead of thinking about how they are acting or making you react. I find the problem is most often the way in which the two people are communicating. It is typically very ineffective.
Silence is a form of communication. It says, "I can't deal with this, I don't want to deal with this right now, this is too much. But most of all, I don't know how to deal with this." To continue to hammer on B is only going to drive them deeper into silence and drive A crazier.
Eventually A usually retreats with a very broken heart and deflated spirit. This is actually the time true revelations and healing begin. It is a time that we need to evaluate our self and our own actions. It is a time to silence our 'inner crazy' and listen to the little voice within – the one in which silence resides. It speaks to us from a much deeper sacred place and beckons us to listen, heal and learn.
In listening to the inner voice, we come to realize that much of what we experience on the outside is nothing more than a mirror of the inside – our inner feelings thoughts, attitudes and ideas.  People reflect to us what we put out. For example, men often respond to women with the "silent treatment." Women react by becoming angrier, or with tears, and want instant answers and resolution. Men are often feeling that the direct approach is insensitive and they feel attacked.
Women cannot fathom how a man can feel attacked when she is simply expressing herself plainly and clearly. Unfortunately, the communication ends at this crucial point. She did not hear that he feels attacked. She does not want to wait, she is impatient and wants things solved today. He cannot do this, as he is not quite sure what he is feeling and he is having trouble dealing with the emotions being thrown at him. If she continues to throw more emotion, he will simply shut down even more.
Speak when you are angry and you will make the best speech you will ever regret ~ Ambrose Bierce
You see, this is where role reversal gets interesting. Men go quiet and they go into their 'cave.'  They retreat. Women take a more active role, instead of a passive role. When emotions are high, things are expressed, often, very hurtful things.
I often need to encourage people to come from the heart; to love more, heal more and have a look at themselves. This is after all a relationship and this is part of 'relating.' Understanding the other persona and their needs and loving them, including what you may consider their shortcoming: because they do not do things your way.
Love is patient, love is kind. There was a reason that this was said by a Master. He also said love does not envy, does not boast and is not proud. Unconditional love also does not dishonor others, it is not self-seeking, it is not easily angered, it keeps no record of wrongs. Love does not delight in evil, but rejoices with the truth. It always protects, always trusts, always hopes, always perseveres.
Love never fails. But where there are prophecies, they will cease; where there are tongues, they will be stilled; where there is knowledge, it will pass away. Because, love never fails. It makes miracles. Be patient and kind because love will get you where you need to be.