Breaking Away From A Toxic Family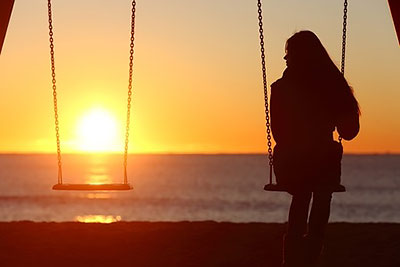 This past year has been exceptionally transitional for me.  It started with my move to Florida from Western New York, at the end of February, after I had walked away from a marriage that no longer was working. After trying and trying all these years, I just could not go on. I also lost a pet whom I loved dearly, soon after moving to Florida.
Something I don't talk about much, which has been painful to process, are some of the reasons why I wanted to start a new life. Right after my father passed away, I decided to move away from my mother and my step-sisters. Breaking away from my family is not something I can say was an easy decision. In fact, it was one of the most difficult decisions I ever had to make.
Happiness is having a large, loving, caring, close-knit family in another city ~ George Burns
Society tells us to remain loyal to our families of origin, no matter how they may treat you. I chose differently. I have always felt like an outsider. I grew up feeling different, because I was hypersensitive, which would later be explained by my psychic, healing and mediumship abilities.
The holidays are especially hard for me, as this time of year brings back unpleasant memories of family gatherings where I felt little more than "tolerated."
Why would one stay in any relationship, regardless of blood, when it is toxic, manipulative and downright abusive? If your friend treated you in a disrespectful manner, wouldn't you walk away? I can assure you, I tried and tried my best to be the way my family wanted me to be, but to no avail. I was never accepted for who I was.
Yes, I was very outspoken; I questioned everything. I could think on my own. It was very draining to be in a family where I was regarded the "strange" or "weird" one.
In 2013, the year my dad passed away, I was in a budding process of letting go and moving away from the norm of the family gatherings and group think mentality. I think I had finally had enough when my mom told me I could not do the eulogy at my own father's memorial service. Plus, my step-sister was attending the memorial service. I had requested my mother not have her there, since she made disparaging comments about my dad to me. It was bad enough I was grieving for my dad, without having the added stress of family drama.
I think a dysfunctional family is any family with more than one person in it ~ Mary Karr
I had decided I had had enough! I remember calmly calling up my mother telling her I would not be attending my father's memorial service, and hung up. She went ballistic. She called and called and called using every ploy she could to change my mind. I was so guilt-ridden it took my last bit of emotional strength to stand my ground. A few months later, I volunteered to take my father's ashes down to Pennsylvania. To me, that was my closure.
Today, some may view my actions as selfish, and say that life is too short not to have contact with family. I say to those who think that way, you have no idea what a difficult and heart-wrenching decision It was for me to finally liberate myself for them. I have since felt a perfect sense of inner peace regarding my decision. I doubt I will reunite with my family… not yet anyways. The time to heal old wounds takes a lot of time. Yes, it is a process of forgiveness.
I respect and, yes, envy those individuals who can bite their tongue and go to family holiday gatherings every year. I know I am not a person who can, at least not at this point in my life.
Before you pass judgment on anyone who says they choose not to have contact with their brother, sister, mother, or father, know that perhaps it is the best decision they could make for themselves at that time in their life, based on the knowledge they have at that time. Try to respect their decision, as it may have been the best one they needed to make at the time.
Meanwhile, I have learned to stand on my own two feet and move forward the best way I know possible…one day at a time.

About The Author: Angelic Amy

Amy's two near death experiences (NDE's) pushed her natal psychic abilities into overdrive and her story is featured in a famous psychic medium's new book! She's experienced a rich life full of more ups and downs than most encounter in a lifetime, which has only helped her connect to her clients on a deeper level. Tapping into her clairvoyant, clairaudient and Mediumship abilities, Amy is a prominent radio show host, has appeared on other radio shows, and is a popular Tarot reader at Psychic Fairs and parties. This native New Yorker is an experienced energy healer, a Reiki Master, and channels gentle Angelic energies through an Integrated Energy Therapy Technique. It's an honor for Amy to help you in your time of need. If that time is now, you can find this gifted psychic at PsychicAccess.com.