Self-Love – The Best Resolution For The New Year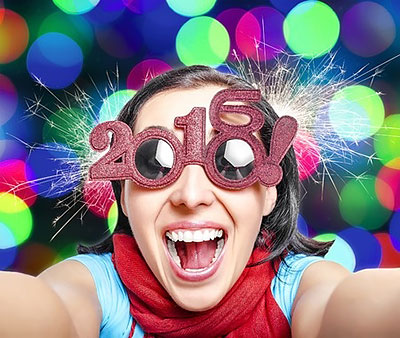 Each new year brings with it the promise of something better in our lives. We hope that the coming year will bring more happiness, health, success, prosperity, or even a new love connection. And thus we set our New Year's intentions.
But the best way to achieve these resolutions and ensure long-term success is to go deeper than merely changing our everyday habits. We must recognize our authentic value and true potential. For a truly fantastic 2016, we need to love ourselves more.
It is not love from others, but the love that we give to ourselves that keeps on giving. Self-love beckons us to take chances, face fears, love ourselves more and be open and vulnerable to welcoming loving and healthy relationships. Self-love can empower you in 2016 and guide you to the very things that you want to see manifest in your life.
Love is the great miracle cure. Loving ourselves works miracles in our lives ~ Louise L. Hay
A friend of mine throws an early New Year's party every year. His home becomes like a fun sanctuary. He fills it with helium balloons, little pieces of paper, sketch pads, crayons and colorful markers. Every year we are required to do three things.
First, we are instructed to write down the things that we want to release in this life. We are to identify any negative thoughts that we have about our self, about our worth, our capabilities or our potential for happiness and success. We write these thoughts down on the little pieces of paper strewn around, roll them up, and tie them to the strings of the balloons. Then, all at the same time, we release them into the sky with a prayer to let go of those things that we have allowed to hold us back.
Next, we are to write down the positive things that we want to cultivate within ourselves, and the gifts that we already possess, so that we can nurture them in the coming year. We also roll these pieces of paper up, tie them onto the balloon strings, and meditate on cultivating these things with a final release into the sky.
Lastly, the sketch pads offer a form of self-creation. We are to draw and color our lives for 2016, with no limitations to our creativity. Some guests turned their sketch pad into a calendar and set goals for each month, while others drew a simple picture of health, happiness and physical fitness. My friend's aim is to show us that our authentic self doesn't need to conform to what the world sees for us, but what we see and create in our own private space of creativity.
Believing in our hearts that who we are is enough is the key to a more satisfying and balanced life ~ Ellen Sue Stern
So, no matter how bad last year was, this new year promises us that we can do better. You just need to recreate your story. The real you knows what it wants, and what it is meant to be. We have tremendous potential that's just waiting to be tapped.
When we love our self, by honoring who we are, we give our self permission to be our true self. In turn, we make choices that are more in alignment with our true self. So, make loving yourself this year your goal. As we love our self more, this love propels us to pursue our goals and desires with greater clarity, purpose and determination.