Are You Psychic?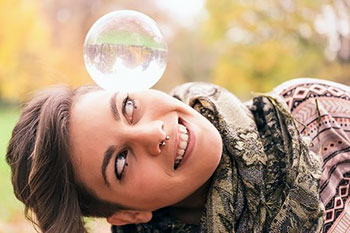 Am I psychic? Do I have the gift? I hear this kind of question a lot. It's a pretty common thing for clients to ask. In my view, if you have to ask someone if you are gifted, then more often than not you don't have a gift.
Now, when I am doing a reading, I can usually feel if you have it. Notice I say usually, not always. Experience and trusting yourself is the only way to really know.
When people ask this question my answer is that the only way to find out for sure is to use your ability. When a situation occurs, follow your intuition. If you are gifted then things should turn out okay, with the pieces of the puzzle falling into place. You cannot be afraid to use your intuition. That's the only way you can find out.
Most people don't know anything about the inner senses while a few people rely on them just as they rely on their physical senses, and in fact probably even more ~ C. JoyBell C.
I started my journey when I was very young. I would listen to my friends' problems and give them my opinion. As time went by I became the "go to" person when someone had a problem and needed help with a solution. Granted, my grandmother and great grandmother were psychic, but that did not guarantee that I was.
It took years for me to realize my full potential. In my early 20s I knew what my calling in life was. That's when I made the transition to what I am today. I have never looked back. I now spend my days and some nights helping others with all types of problems, and to realize their dreams.
If you feel in your heart that you have this special talent, then you need to explore it. Take the time to read about it. Learn all you can, then just trust your intuition. I guarantee if you are psychic you will know shortly, because your friends, relatives and others will be coming back for more guidance.  There's no better feeling than knowing you have helped someone find their way.
By the way, don't expect to make everyone happy. Some cannot handle the truth. I have found it's not what you say when you deliver bad news, it's how you present it.
About The Author: Lani

Lani is a third generation psychic, who inherited her gifts from her mother and grandmother. In addition to her skills as a clairvoyant and dream interpreter, she is a natural born empath, and can feel what others feel. She can feel your difficulties and immediately pinpoint your dilemma. Through this gift, she can accurately guide you to make the right decisions that will improve your future. Get a psychic reading with Lani now at PsychicAccess.com