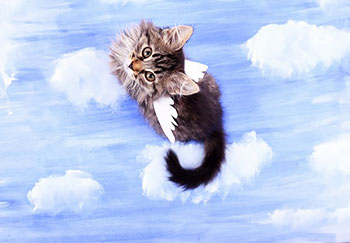 Everybody journeys through life with a guardian angel by their side. Your angel is a celestial being that is pure love and without ego. Your angel's goal is to bring God's perfect love into our life.
If you're not sure that you have an angel by your side at all times, try to ask their assistance with something and see what happens. Angels love to help us, but they are not allowed to intervene in our free will unless we ask. They are bound by a code of ethics that prevents them from interceding on our behalf, unless it's a life or death situation. But when we ask, it has been my personal experience that they love to help and they respond as quickly as possible.
Angels have no philosophy but love ~ Terri Guillemets
The angels' greatest desire is to bring us peace, so that may be the first thing you'd like to ask for: peace in your life. When you are at peace so many good things follow. Your relationships change, you're more abundant, and your life is enriched in every way.
It doesn't matter how you ask for what you need. You can simply think about directing your need to your angel, or write a note to your angel, or say it out loud and they  will hear you. They are by your side always.
I moved to a new home a few months ago and I realized that I was ready to welcome another cat into my life. It had been four years since the passing of my beloved cat, Max, and I felt our new home needed a new kitty to be complete. I asked my angels and Max, who is with me in spirit, to bring me the cat that would fit right in and be happy with us. That is how all my kitties have come to me in the past and they have always been such a blessing in my life. Then I just let it go and didn't concern myself with how it would happen, I just knew that it would.
I love cats because I love my home and after a while they become its visible soul ~ Jean Cocteau
I have to admit that I realized it was a big request, because I live in an extremely remote area surrounded by national parks and redwood forests. You just don't see cats walking around out here.  But sure enough, about a month went by and the most adorable calico cat appeared outside on my deck recently. She walked up to the screen door, near where I was working, and just sat down and stared at me. She looked like she was starved, so I quickly grabbed a can of salmon and gave it to her with some water. She gobbled it all up and looked at me with much gratitude. The next day I ran out and got proper cat food and supplies for her and welcomed her into our family. We are so very happy to have her with us.
I decided to name my new kitty "Ariel" – in honor of Archangel Ariel who is the angel of nature, the guardian of our environment, our gardens and our animals. Archangel Ariel is the patron who protects all wild animals and our pets, and also offers them healing along with Archangel Raphael. If you have an animal in need she is a good one to ask for help. She is also a powerful angel to call on if you need help doing your part to take good care of the natural world, or to motivate you to be more conservative with the Earth's natural resources.

PsychicAccess.com.


Stacy is a talented Medium, Healer, Bodyworker, Reiki Master, teacher and entrepreneur living in a cozy hideaway on the Central Coast of California. She possesses a variety of Clair gifts and is well versed in metaphysical practices. Stacy has spent thousands of hours reading for patients in Hospice and has honed her gifts without the need of any outside tools! She's been an active seeker of knowledge, wisdom and experience for forty years and feels inspired to share her gifts as a spiritual counselor and healer with others to ease suffering and clear confusion that sometimes clouds our truth and higher purpose. She works with Angels and Guides to bring their peaceful, loving and transformative messages to her clients. If you'd like to experience Stacy's inspirational energy for yourself, you can find Stacy at