The Psychic Bond Between Mother And Child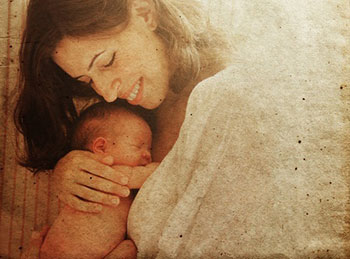 There is a unique psychic connection between a mother and a child. I have always intuitively knows this to be true, before I knew that scientific evidence confirmed this. Telepathic and empathic connection between mother and child is a phenomenon as old as time.  After all, the first sound you hear is your mother's heartbeat while you are in the womb.
My mother would always know if something was wrong with me, and I knew if something was the matter with her. One day I had a bad feeling about my mom's well-being and I called her. When I could not reach her, I knew for sure something was seriously wrong. It turned out she had been rushed to the hospital earlier that day.
We were always in-tune with each other on a psychic level, even on the day she passed away. She came to me in a dream and handed me a rose. I instantly new she had passed when I woke up. That rose she gave me in the dream was symbolic of something special being taken away from me.
The link between a mother and child is profound, and new research suggests a physical connection even deeper than anyone thought ~ Robert Martone
But despite her no longer being in this life, I still feel her energy around me. When I am facing adversity she is always near to support and uplift me. When we lose someone to death, we just lose the physical, not the spirit of that loved one. The spirit is eternal. As a medium I so very much enjoy to give others peace and closure from their loved ones. It's an amazing gift to have to be able to bless other people's lives in this way.
I am a mom now myself and, as it has been with my mother, my children and I are also very much connected. We sometimes just look at each other and know what we are thinking.
About The Author: Sabrina

Sabrina has worked as a professional psychic since 1989 and owns her own successful psychic business. Prior experience includes employment with prestigious psychic companies, which served as an excellent training ground that eventually afforded her the wonderful opportunity to go into business for herself. For over twelve years, she has dispensed psychic counseling and changed the lives of more clients than she can possibly count. Her aim has always been to empower people with choices so they may fully utilize the free will given to them by the Higher Source. You can get a psychic reading from Sabrina at PychicAccess.com


<!div id="networkedblogs_nwidget_logo" style="padding:1px;margin:0px;background-color:#edeff4;text-align:center;height:21px;"><!a href="http://www.networkedblogs.com/" target="_blank" title="NetworkedBlogs"><!img style="border: none;" src="http://static.networkedblogs.com/static/images/logo_small.png" title="NetworkedBlogs"/><!/a><!/div>