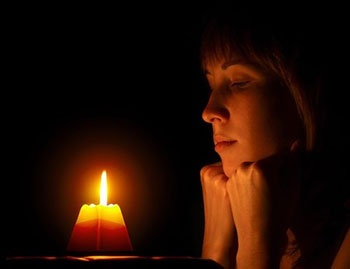 Candles have a special place in my life. I light candles quite often and I say a prayer along with my special intention that, along with my angels, I offer to God.
Candles have always been special to me and I can trace them all the way back to my childhood. Over my lifetime they have conveyed different meanings and messages to me, whether it's a secret wish on my birthday, or warmth and relaxation, romance, or spirituality.
Lighting a candle in prayer is an ancient ritual, with a timeless power. Lighting a candle in my church with a prayer for my special intention goes back to my roots in the Catholic Church, but candles have been embraced by almost every faith, creed and nationality.
Keep your flame lit, and you will never feel darkness ~ J. Parker
There is something so special about a solitary flame and the energy exchange that it puts forth. It touches my soul. Who has not been be touched by the commonality of candles in our religions and belief systems? People of all faiths and walks of life, and many different creeds, can join together in a candlelight vigil to grieve, or come together in prayer.
Candles are unique tools that link us to the Divine. Lighting a candle as I pray for a special need is a daily practice of mine. I pray for a particular reason or I simply offer it in thanks. As the candle burns it continually holds my prayer up to the light. Candle light is energy and a prayer is energy.
Before I light a candle I define the goal I wish to reach. I'm very explicit and clear about my intention and I carefully visualize it and ask for what I need. Sometimes I carve an affirmation on the candle or write my intention on a slip of paper and put it underneath the candle.
I choose a candle for its size. If my prayer is very important, and I want the candle to burn every day for several days, I choose a very large candle. Sometimes I choose several smaller candles and burn one each day.
When I light my candle, I do it consciously, because fire has an affinity with the spiritual plane and fire is energy, and so is prayer.
Better to light a candle than to curse the darkness ~ Chinese Proverb
I begin by placing the candle in my non-dominant hand, my left hand, and I place my right hand over it and I focus my energy, my inner vision and prayer intention on exactly what it is my will wants to unite with God's. I always ask my angels to join me in this and that it be for the highest good of all concerned. Then I light the candle and let it burn.
Every time I glance at the dancing flame I refocus on my prayer intention. As the candle burns it holds my intention with me. Intention is a powerful thing. It is the main crux of how the universe operates.
Some affirmations that I like to hold in a silent vigil, as the candle burns, are "bless me with a calm center in the storms of my life" or "may spirit open the right doors at the right time to lead me where I am meant to go," or "I attract everything that is for my highest good into my life".

PsychicAccess.com.


Stacy is a talented Medium, Healer, Bodyworker, Reiki Master, teacher and entrepreneur living in a cozy hideaway on the Central Coast of California. She possesses a variety of Clair gifts and is well versed in metaphysical practices. Stacy has spent thousands of hours reading for patients in Hospice and has honed her gifts without the need of any outside tools! She's been an active seeker of knowledge, wisdom and experience for forty years and feels inspired to share her gifts as a spiritual counselor and healer with others to ease suffering and clear confusion that sometimes clouds our truth and higher purpose. She works with Angels and Guides to bring their peaceful, loving and transformative messages to her clients. If you'd like to experience Stacy's inspirational energy for yourself, you can find Stacy at