Setting Intentions That Work!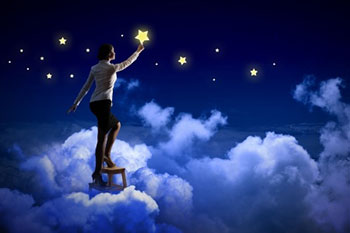 In our current Age of Enlightenment it is no longer fashionable to set goals. These days we set "intentions." Intentions are a powerful thing. It is simple: we manifest the reality that we desire simply through our intention to do so. But as a retired teacher I am also a firm believer in goal-setting, because without clear goals there can be no potent intentions.
I once came across some research that took two groups of students. One group was educated about goal-setting and every year followed through with setting goals. The other group were left to their own devices. After many years, what they found was amazing! The group that had set goals were more successful personally and professionally than the group that did not.
An intention is a quality of consciousness that you bring to an action ~ Gary Zukav
To set powerful intentions to improve or transform your life, the following goal-setting strategies can be very useful:
Be Specific
When you write "lose weight" year after year and you only succeed in gaining weight, it can become counterproductive. Try instead to be specific: for the next 30 days I intend to do one thing to eat healthier. For example, in 2014 I began incorporating flax seed and spinach into my diet. For 2015, my intention is to do half of my grocery shopping in the organic food aisle.
Be Realistic
We actually function in two realities: the one that we live in day-to-day and the one that we fantasize about. What many don't realize is that our fantasies actually become our reality. So, I advise that you set achievable intentions. For example, to exercise five times a week, instead of twice.
Go confidently in the direction of your Dreams. Live the life you've imagined! ~ Henry David Thoreau
Dare To Dream
But it is also crucial to set dream intentions. For example, to hire a sexy male trainer to work with me every day to get rid of all my cellulite and upper arm flab.
Actually, you can do a whole chapter for yourself called "Dreams" where there are no boundaries and no limits. To help you formulate your dream intentions, start with the words "in a perfect world, where money was not an object I would…"
It's important to release your fears and step into the unlimited universe where anything is possible. That's the place where magic and miracles are created and if you can't dream it, you can't achieve it.
Take Action
Once you have your intentions down on paper, don't let them just sit around taking up space on your counter. The next step, and one that's usually missing is: what action are you going to do to ensure that you meet your intentions? What due dates or benchmarks are you going to put into place? Who is going to help you to be accountable to make sure they get done?
Now don't just sit there, get going. It's never too late to set intentions. A full moon is a good time, and your birthday is perfect, but right now is even better!
About The Author: Julie

Julie is a psychic Medium, healer, and spiritual educator from Wisconsin with a plethora of metaphysical credentials too long to list here. After her father's passing, almost eighteen years ago, she fully embraced her natural gifts as a psychic Medium and now works full-time helping others all across the globe with spiritual readings and teachings from the beyond. She is the host of two radio shows, the owner of her own healing business since 2007, and heads an online University for international soul development (HSU). Julie is a Channel for Archangel Metatron, delivering clear messages to clients that transform their lives. If you'd like to experience this highly qualified and gifted metaphysician for yourself, you can find Julie at PsychicAccess.com.