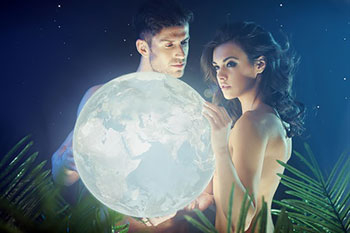 We have all heard about werewolves making an appearance at the Full Moon, and the fact that hospitals and law enforcement have to increase their number of staff on duty. But what do the Full Moons forebode for you personally? God said in Genesis 1:14 that "He created the sun and moon and stars for signals." Can you monitor the Full Moons as celestial signs of focus areas in your life? Yes, you can!
Take a moment to visualize a Full Moon – it literally lights up the sky. It lights up the part of the sky that is important in your natal horoscope. What is the horoscope? Why it is a map of your soul- so listen up!
Go out of the house to see the moon, and't is mere tinsel; it will not please as when its light shines upon your necessary journey ~ Ralph Waldo Emerson
We feel the Full Moon's effect a couple of days before, and up to 18 days afterwards. To monitor these signposts from the heavens, you simply need to have a copy of your natal chart and a basic understanding of the astrological house system. The houses of your horoscope describe different areas of your life. It will help you to have a list of the astrological symbols.
So, here we go! This is what you need to know:
Full Moons 2015
Calculated for EDT/EST.
Jan 4th, 2015: Full Moon at 14 degrees Cancer, 11:53 PM
Jan 20th, 2015: New Moon at 0 degrees Aquarius, 8:13 AM
Feb 3rd, 2015: Full Moon at 14 degrees Leo, 6:08 PM
Feb 18th, 2015: New Moon at 29 degrees Aquarius, 6:47 PM
Mar 5th, 2015: Full Moon at 14 degrees Virgo, 1:05 PM
Mar 20th, 2015: New Moon (Solar) eclipse at 29 degrees Pisces, 5:36 AM
Apr 4th, 2015: Full Moon (Lunar) eclipse at 14 degrees Libra, 8:05 AM
Apr 18th, 2015: New Moon at 28 degrees Aries, 2:56 PM
May 3rd, 2015: Full Moon at 13 degrees Scorpio, 11:42 PM
May 18th, 2015: New Moon at 26 degrees Taurus, 12:13 AM
Jun 2nd, 2015: Full Moon at 11 degrees Sagittarius, 12:18 PM
Jun 16th, 2015: New Moon at 25 degrees Gemini, 10:05 AM
Jul 1st, 2015: Full Moon at 9 degrees Capricorn, 10:19 PM
Jul 15th, 2015: New Moon at 23 degrees Cancer, 9:24 PM
Jul 31st, 2015: Full Moon at 7 degrees Aquarius, 6:42 AM
Aug 14th, 2015: New Moon at 21 degrees Leo, 10:53 AM
Aug 29th, 2015: Full Moon at 6 degrees Pisces, 2:35 PM
Sept 13th, 2015: New Moon eclipse (Solar) at 20 degrees Virgo, 2:41 AM
Sept 27th, 2015: Full Moon eclipse (Lunar) at 4 degrees Aries, 10:50 PM
Oct 12th, 2015: New Moon at 19 degrees Libra, 8:08 PM
Oct 27th, 2015: Full Moon at 3 degrees Taurus, 8:05 AM
Nov 11th, 2015: New Moon at 19 degrees Scorpio, 12:47 PM
Nov 25th, 2015: Full Moon at 3 degrees Gemini, 5:44 PM
Dec 11th, 2015: New Moon at 19 degrees Sagittarius, 5:29 AM
Dec 25th, 2015: Full Moon at 3 degrees Cancer, 6:11 AM
If you own a smart phone, download a Moon phase app.
Houses
1st = Life, body, skill, talent, wit, appearance, personality
2nd = Money and movable possessions
3rd = Siblings, thoughts, neighbors, short distance travel, research, communication
4th = Home, family, real estate
5th = Children, hobbies, creativity
6th = Employees, skills, service, routine, daily life, minor illness, pets
7th = Other people, partner, partnerships, lawyers and law suits
8th = Death, taxes, losses, occupation, calling
9th = God, spirituality, religion, higher education, publishing, long-distance travel.
10th = Profession, calling, reputation
11th = Friends, acquaintances, hopes, goals
12th = Major Illness, self-undoing, secret enemies, institutions, hidden self
Astrology Symbols
(top left hand corners)
Insert image with symbols and names. Check each month where the Full Moon falls in your chart and be aware that the house illuminated is under the spotlight.
Please remember that this is just one simple tool to provide a little insight. There is much more to the picture. If you would like a comprehensive picture, please contact me for a reading.


Get a reading from Steve at PsychicAccess.com


Born a medium, Steve is a member of the Spiritualist's National Union and a certified Angel Therapy Practitioner®. He has given public and private readings since childhood and has studied mediumship all of his life. Steve has amazed clients around the world with the accuracy of his mediumship and psychic ability. His private readings provide inspiring evidence from the spirit world combined with empowering spiritual guidance. One of Steve's greatest passions is helping people understand their personalities, life purposes, and greatest natural talents in order to define their dreams and create the future. Steve believes that we each have a unique life purpose combined with an innate set of talents and opportunities to make the world a better place. He is an avid believer in the law of attraction, the power of the subconscious mind and our ability to create whatever we choose.