Reignite Your Inner Passion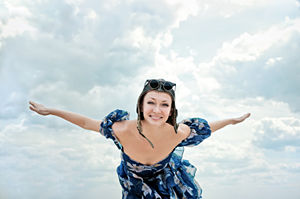 Passion, we all have it. A desire so deep within us for something or someone we just about glow when we talk about, or think about it, or them. It is a drive to succeed, a desire to love or be loved. You have to have it. You need passion in your body and soul to feel fulfilled and happy. You need it to feel alive.
Many of us have voids in our lives, holes – an emptiness that we cannot seem to fill. But we really have a need to fill them, and fill them we do. We fill them with things that make us feel fuller, but not better. Some of us drink too much, eat too much, over spend, use drugs or fill up every second of our day with stuff to do. Stuff that is often so passionless; things that we are mindlessly doing to help contain the emptiness we feel.
Sometimes our relationship with our significant other has lost its appeal. It is no longer exciting. We sometimes have jobs that we go to everyday that bore us. It is no longer challenging or maybe it has become too challenging. Sometimes our lives have just become boring and mundane. We have our daily routines that we can do blindfolded, or asleep.
The most powerful weapon on earth is the human soul on fire ~ Ferdinand Foc
We often need to feel passionate again. We need to feel passionate about our relationships, jobs, lives and our day-to-day living. We need to feel vibrant. We want to reignite that inner passion. How do we do that? How do we do that in a world where we often feel very overwhelmed? Here are a few ways that you can easily reignite that spark and start feeling passionate about almost everything again.
Career. If you are in a passionless job or you feel it is no longer challenging, try moving up the ladder and apply for other positions in your workplace. Not qualified? Then take some courses. That will get the blood racing again as you face new challenges.
Relationship. Has your relationship with your significant other become routine and boring? Add some excitement by doing things together, like a date night. Or spice things up in the boudoir and see the sparks fly again.
There is no end. There is no beginning. There is only the passion of life ~ Federico Fellini
Balance. Put your life under the microscope, what is missing? Is there too much of some things and not enough of others? Get some balance in your life. If you need help, see a counselor, home organizer, life coach, yoga instructor. Do whatever it takes to get you back in the passion pit.
One of the best ways to bring back passion is to do something exciting. Is there something that you always dreamed of doing, but were afraid to? Maybe now is the time. Take that course, apply for that job, learn how to play the piano or salsa dance. Put the passion back in your life and watch your stress levels drop. Your face will start to glow and you will feel better. But be careful, people will start asking why you have a silly grin on your face all the time!
About The Author: Nancy

Nancy is a Canadian native and Indigo/Star Child, born with a heightened spiritual awareness. She's been communicating with Angels since the age of four and enjoys a close relationship with Mother Nature that extends to the Animal Kingdom. Attracting people and animals in need, she receives premonitions and visions and heals troubled souls through the many gifts she's employed in this life, as well as other lifetimes before. Energetically, she draws people and animals to her and compassionately connects to every soul, drawing from her well of experience as a Social Worker, Tarot, Angel and Animal Reader, Aroma Therapist and Master Herbalist, to name but a few of her many prized offerings. If you'd like a reading with this Empathic, devoted and highly gifted Intuitive Worker, you can find Nancy at PsychicAccess.com.