Meditation Is About Doing What Feels Good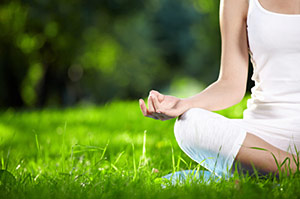 I have been seriously meditating for about five years now and have experimented with many different forms of meditation.  No matter what you call it and what the gurus say, there is no one way or right way to meditate. The best advice I ever got was: "Do what feels good."
When I started I was unsure about many aspects of meditation. I did not know what the best body position was, for example. Is it advisable to sit in the traditional 'yogi style', or in a chair? Or should one lie down to meditate? The best answer I ever received was: "Do what feels good."
If you fall asleep when you lie down, then sit up. If you are uncomfortable in a yogi posture, then sit in a chair. If you do the 'head bobs' sitting in a chair, then lie down. If you start yogi style and then move to a chair and end up lying on the floor, that's okay too. Do what feels most comfortable, because if you are not comfortable you will not continue your meditation practice.
Those who sit perfectly physically usually take more time to obtain the true way of Zen ~ Shunryu Suzuki
There are numerous benefits to be found in meditation. Below are only a few of the most common benefits of meditating regularly.
Psychological and Emotional Benefits
• Reduces anxiety and tension.
• Creates a sense of inner peace and calm.
• Reduced the use of prescription drugs.
• Helps you lose weight.
Physical Benefits
• Strengthens your immune system.
• Lowers blood pressure.
• Reduces chronic pain.
• Increases blood flow from the heart.
• Reduces cardiovascular problems.
A good meditation, even when it is interrupted by occasional nodding, is much more beneficial than many outward religious exercises ~ Johannes Tauler
Work-Related Benefits
• Reduces sick days.
• Improves productivity.
• Improves work performance.
• Improves relationships with co workers and supervisors.
I use meditation in my daily life and help others with their own practice. My favorite benefit is that I feel like I am more in control of myself and my life. I began with the mindfulness practice of "awareness breathing" throughout the day, and over the course of a few years I now meditate for an hour daily. I also host a free weekly meditation podcast where I take listeners on a beautiful meditation journey.
Meditation can seem daunting in the beginning, but over time you will reap the rewards of a calmer self, a clearer perspective on your life and best of all a deeper connection with your own Angelic team.
Remember, when practiced regularly meditation becomes like brushing your teeth – you just won't be able to imagine going a whole day without doing it!
About The Author: Julie

Julie is a psychic Medium, healer, and spiritual educator from Wisconsin with a plethora of metaphysical credentials too long to list here. After her father's passing, almost eighteen years ago, she fully embraced her natural gifts as a psychic Medium and now works full-time helping others all across the globe with spiritual readings and teachings from the beyond. She is the host of two radio shows, the owner of her own healing business since 2007, and heads an online University for international soul development (HSU). Julie is a Channel for Archangel Metatron, delivering clear messages to clients that transform their lives. If you'd like to experience this highly qualified and gifted metaphysician for yourself, you can find Julie at PsychicAccess.com.