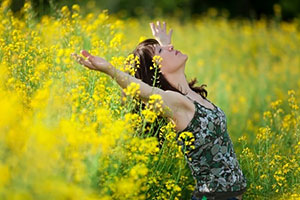 Over the years I've repeatedly heard the suggestion to "breathe" or "take a deep breath".  The suggestion is always emphasized in meditation and yoga, and it comes up a lot whenever someone receives or gives a massage. It's also included in energy healing and the martial arts, and it's even mentioned when you are preparing to yank off a bandage.
There is something powerful and transformative about the breath and breathing when it is combined with intention. I've noticed how I can change emotionally, spiritually and physiologically when I breathe deeply. From time to time I've also realized the answer to a problem as I invoked a deep breath.
Breath is the bridge which connects life to consciousness, which unites your body to your thoughts ~ Thích Nhất Hạnh
Generally speaking though, I'm not very good at breathing. My breath is usually shallow and just enough to keep me alive. I notice that when I'm busy, or worried, or rushed, or really focused, I barely breathe. I have to remind myself to breathe. I also notice when I'm afraid of something I barely breathe at all.
Recently I've been making a real concerted effort to pay attention to my breath and I've stumbled on a simple way to focus and utilize the healing power of breath, to clear my thoughts and release negative emotions, through exercise. When I'm exercising the depth and intensity of my breath naturally increases. I wonder if that is one of the reasons exercise gives me an overall sense of well being, as well as suddenly feeling more clear mentally and emotionally? I am also having better insights into matters I'm thinking about and situations that are causing me distress.
I live in a mountainous area and there's no way my dog will ever let me out of our morning and evening walks. I choose this time to make clear my intention to release emotions, thoughts and memories that no longer serve me, and I replace it with something healthier, more current and more positive using breath as a vehicle.
I'm sure you have heard the cliché "Let it go!". But how? I've often wondered. I believe that through breath and intention I can let things go. So, now when my dog and I take our morning and evening walks I pay attention to my thoughts and feelings, and my breath. My dog charges up the mountain, smiling at the pure joy of exercise and freedom in the wilds, and I slowly but surely "crawl" up… and try really hard not to slide all the way back down. It is really steep and it doesn't take long to get my heart rate up and my breathing becoming very deep. It's a lot of work to make it to the top of the ridge-line, but I'm always rewarded with a panoramic view above the treetops that opens out to the beautiful Pacific Ocean and the surrounding mountains.
I took a deep breath and listened to the old bray of my heart: I am, I am, I am ~ Sylvia Plath
It is a wonderful opportunity to focus on my breathing and I take notice of my thoughts and feelings at this time. I focus on breathing out the stresses and negativity of life. I let go with breath and intention all I've been holding onto that no longer serves me – whether it's from today or from decades ago. I let it pass away on my exhalation and I take in the light and healing energy that surrounds me. As I'm breathing out whatever condition I'd like to "let go of" I see all around me what nature offers me in the form of healing colors and light. With my breath and intention I can draw in nature around me and I imagine and feel it cleansing, balancing and fortifying my body, mind and emotions.
The primary color that surrounds me here in my forest is green. Clear, pure, iridescent green is the universal color of healing and by inviting the vibrant spring green into the body with intention, I imagine and feel I am promoting healing and bring my body and mind into balance, as well as building my life force energy. It's not very hard to imagine it running throughout my body, because at that point of my walk my heart is pounding and my breath is deep from the exertion. It's easy to imagine my breath carrying away what no longer serves me and bringing in and carrying fortification to every cell in my body.
Scattered throughout the forest is the occasional little wild flower too. When my eye catches the sight of one I breathe in the color and the light that surrounds it and allow it to touch every aspect of my being, and nurture any area that may feel depleted or out of balance.
Here are some examples of colors and the applications that may be helpful to you when you are exercising and breathing deeply. Imagine and feel that you can let go of what no longer serves you and then take notice of the vibrant colors and light that you are attracted to. Perhaps you feel drawn to the colors of the sunset in the evening, or perhaps the beautiful sight of a pink rose catches your attention? Take a long deep breath and bring it into your heart and feel the peace replace some other emotion that no longer serves you.
Who will tell whether one happy moment of love or the joy of breathing or walking on a bright morning and smelling the fresh air, is not worth all the suffering and effort which life implies ~ Erich Fromm
I have a white rose growing outside my kitchen window. When I do my dishes I remind myself to breathe and I take in the color and light of the white rose and imagine and feel the pure white essence of the rose fill any dark spaces in my body, mind and spirit.
A yellow rose, a field of yellow daisies, or golden wildflowers can offer your turbulent emotions calm and stability. A cleansing exhalation to let go and purify your emotions and an inhalation along with your intention to draw in the beautiful yellow light for peace, stability and healing, may change your outlook for the day.
Perhaps you will also feel an attraction to the purple Morning Glories as I do. Let your natural attractions lead you to what you need and then focus on your breath as you admire and connect with nature and the beauty around you. Let go of the old and bring in the new with your breath, your intention, and the color and light that surrounds you, to support you and your overall sense of well-being.

PsychicAccess.com.


Stacy is a talented Medium, Healer, Bodyworker, Reiki Master, teacher and entrepreneur living in a cozy hideaway on the Central Coast of California. She possesses a variety of Clair gifts and is well versed in metaphysical practices. Stacy has spent thousands of hours reading for patients in Hospice and has honed her gifts without the need of any outside tools! She's been an active seeker of knowledge, wisdom and experience for forty years and feels inspired to share her gifts as a spiritual counselor and healer with others to ease suffering and clear confusion that sometimes clouds our truth and higher purpose. She works with Angels and Guides to bring their peaceful, loving and transformative messages to her clients. If you'd like to experience Stacy's inspirational energy for yourself, you can find Stacy at