Psychic Abilities Are Spiritual Gifts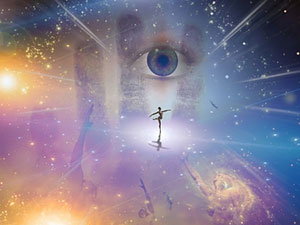 Recently an client asked me in video chat, "How can you be a psychic and a reverend?" There is nothing wrong with being both a reverend and a psychic. In fact, there are some great advantages to being both. It has been my experience that my work as a psychic and energy healer and as a reverend go hand in hand.
While I grew up in a strictly conservative Catholic household, I knew intuitively there was more to life and spirituality than what I was being taught. To make matters worse, I was attending a Catholic school where I was misunderstood and misjudged. I was always questioning my faith and the wonders of the Universe.
To better understand myself and the yearnings of my soul, to know more about the Universe and the unseen, I had read The Bible all the way through at the age of nine.
Don't be afraid to be awesome. Sometimes being weird and different is good. When you think you're working hard, there is always someone else working harder, so always be yourself and know your stuff ~ Jacqueline MacInnes Wood
I felt the Catholic religion didn't resonate with me at all! My mother believes that once a Catholic always a Catholic. I am not saying that there is anything wrong with Catholicism at all. It just was not working for me. It took me years to reconcile my feelings, my heart and my mind with regards my faith and belief system.
I knew at  young age that I was "different." I could sense things others could not. My mother freaked out when I saw my deceased grandmother at the age of six and she told me to tell my mother she was "okay." She also told me about the psychic gifts I had inherited from her side of the family. My great-grandmother was a gifted healer, medium and psychic. She was also very superstitious!
When I turned 14, I was drawn to a deck of Tarot cards at the local bookstore. My mother didn't object to my owning the deck. In fact, one of her friends was interested in things like past lives and reincarnation, so the topic of metaphysical happenings was the "norm" at our house. Being the rebellious teenager, I then started doing Tarot readings at the Catholic school I was attending. I was soon called a "devil worshipper" by some of my classmates. I found it ironic that later in life many of those classmates came to me for psychic readings!
To one there is given through the Spirit a message of wisdom, to another a message of knowledge by means of the same Spirit, to another faith by the same Spirit, to another gifts of healing by that one Spirit, to another miraculous powers, to another prophecy, to another distinguishing between spirits ~ 1 Corinthians 12:7
For many years, since my school days, I had suppressed my psychic gifts. It wasn't until a Near-Death Experience (NDE) that my gifts reemerged. In those first two years after my NDE I had to find a way to reconcile my religious upbringing with my psychic talents and abilities to heal. I had no choice, it was my destiny.
Today, I do not feel guilty or weird about who I have become. I feel with my rich experiences I am here to help anyone in need.  I am here to be of service to those who are also questioning their faith and perhaps their own psychic abilities. I believe that psychic abilities and other spiritual gifts are all from the Universe. There is nothing to be ashamed of when you possess such gifts! In fact, there are parts of the New Testament in the bible that speak of such spiritual gifts.

About The Author: Angelic Amy

Amy's two near death experiences (NDE's) pushed her natal psychic abilities into overdrive and her story is featured in a famous psychic medium's new book! She's experienced a rich life full of more ups and downs than most encounter in a lifetime, which has only helped her connect to her clients on a deeper level. Tapping into her clairvoyant, clairaudient and Mediumship abilities, Amy is a prominent radio show host, has appeared on other radio shows, and is a popular Tarot reader at Psychic Fairs and parties. This native New Yorker is an experienced energy healer, a Reiki Master, and channels gentle Angelic energies through an Integrated Energy Therapy Technique. It's an honor for Amy to help you in your time of need. If that time is now, you can find this gifted psychic at PsychicAccess.com.