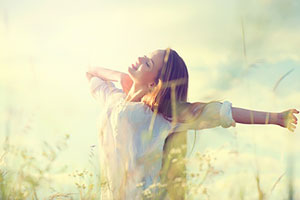 Life is not difficult. Life is beautiful, amazing, vibrant, but certainly not difficult. I know this thought to be true, but it just dawned on me today, as I was taking my morning walk.
Usually when I go for my walk, I listen to a podcast. As I left this morning, my guides reminded me this is my time to connect with whatever comes up – usually a conversation with them. But today they didn't talk much.
Today it was all about the breeze on my face, the sounds in the air and the beautiful shining sun. As I took this all in, more beauty appeared. Several blue jays and cardinals with their beautiful colors and happy songs joined the kaleidoscope surrounding me. Dogs and cats of all shapes and colors also entered the scene.
Keep smiling, because life is a beautiful thing and there's so much to smile about ~ Marilyn Monroe
Everywhere there seemed to be other people, just like me, also taking it all in and smiling, as I was. Can you sense my big sigh of contentment? Can you imagine the smile on my face? It was so spontaneous, simple and refreshing!
Then to top it off, and I know this sounds cliché, but a little boy getting into a car yelled out excitedly, "Hi lady!" It is true, the joy of children is a wonderful gift. And a wonderful reminder of our true nature. What a great way to end my walk and start my day.
This morning's walk was a reminder that life is simple – being in the moment and taking in all the joy and love we deserve is simple. The things we think are difficult are only difficult in the sense that we have to put a lot of energy into them to keep them going. How much energy does it truly take to have a happy thought and how much energy does it take to keep the same nasty thoughts on repeat? Have a beautiful day my radiant beings!

PsychicAccess.com.


Joy is a Florida native, born with strong Medium and Psychic talents to feel, hear and see what others can't. Early on, she pushed her abilities aside, but her Spirits, Angels and Guides were just too stubborn and strong to ignore! With the help of important mentors, such as John Edward's teacher, she learned to embrace her Soul's purpose to service others and now does so with gusto—changing one life at a time. She's a Certified Reiki Practitioner, provides Psychic Readings and Channeling at parties and is expert in crystals, Tarot and Auras. If you're interested in a Spirit Makeover that will improve your life and fulfill your Soul's purpose, you can find Joy at