The Life Lesson In Losing A Pet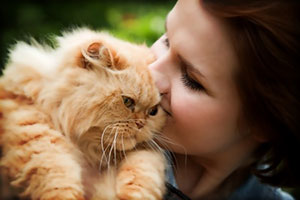 I have had pets all of my life: dogs, cats, and fish. Each pet has a different personality and has brought such a richness in my life that I could not have had without being a pet owner.
Pets become a part of your daily routine, they become part of the family. Some may call me the "Crazy Cat" since I have six cats. I don't really care. Until you own a pet, no one can make such judgments.
I recently relocated from New York to Florida. My ex and I had a horrible breakup. There was one condition that I insisted on: I was to take all the six cats. I knew it would not be an easy journey or undertaking, however, I did take all six cats while he got the home and furnishings. Out of these six cats, two were really attached to him.
Until one has loved an animal, a part of one's soul remains unawakened ~ Anatole France
I remember the day I was packing up my personal belongings. I had six cat carriers, one for each individual feline. As I left the cat carrier doors opened, the one who was attached to my ex went right in the cat carrier. She went willing! I was so relieved, as I feel pets know instinctively who will care for them and who would not. She knew my ex would not take care of her as I would.
Recently, I noticed the same cat was losing a lot of weight. I am very grateful that I work from home, so I was able to watch her. When I first arrived here, she had become ill. She wasn't eating or drinking, but then she came out of it. I knew this time was different. It was as if her will to live had left her. I called the vet and we did watch her very carefully. Eventually she didn't move around much and once again she had no desire to eat or drink.
Then she gave me that look like it was time for her to leave for the world and transition to the other side. I just knew she wasn't going to have a good quality of life if I let her linger in pain. Our furry friends tell us in their own way when they are pain.
You gain strength, courage, and confidence by every experience in which you really stop to look fear in the face. You must do the thing which you think you cannot do ~ Eleanor Roosevelt
I have had other pets put down. In fact, I had been with my dogs growing up and then put to sleep when they got old, and their health was not good. This cat had suffered enough. I felt the most compassionate and humane thing to do was to let her die in peace.
It was a hard decision to make but in my heart I know I did the right thing. Letting her go has helped me to know that a relationship never ends, even though she has crossed over to the other side. I will always hold a special place in my heart for her. Who knows, perhaps she will come back to me again!

About The Author: Angelic Amy

Amy's two near death experiences (NDE's) pushed her natal psychic abilities into overdrive and her story is featured in a famous psychic medium's new book! She's experienced a rich life full of more ups and downs than most encounter in a lifetime, which has only helped her connect to her clients on a deeper level. Tapping into her clairvoyant, clairaudient and Mediumship abilities, Amy is a prominent radio show host, has appeared on other radio shows, and is a popular Tarot reader at Psychic Fairs and parties. This native New Yorker is an experienced energy healer, a Reiki Master, and channels gentle Angelic energies through an Integrated Energy Therapy Technique. It's an honor for Amy to help you in your time of need. If that time is now, you can find this gifted psychic at PsychicAccess.com.