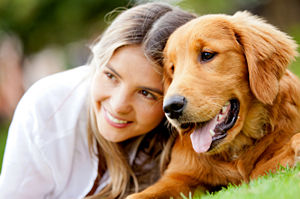 We have come here in Soul Families. It is my belief that we chose each other to help with the lessons our soul came to Earth to learn, along with sharing our gifts. We each have gifts and lessons to share with each other.
Animals are a part of our Soul Family. I have a beautiful story that illustrates this. One of my clients, Elise, had just lost her beloved Golden Retriever and had gone through a tremendous period of grief. A friend found a sweet puppy that she thought was perfect for her, but when she contacted the shelter, the dog was already adopted.
A few weeks later she receive a call that the puppy had been returned to the shelter. Elise adopted him, named him Merlin, and wondered why someone would have returned this beautiful soul. She contacted me to see if Merlin could give me any clues. When I looked into Merlin's eyes, he immediately relayed the fact that he was waiting for her specifically; the other family was meant for another dog.
Until one has loved an animal, a part of one's soul remains unawakened ~ Anatole France
Elise and Merlin are part of a Soul Family, and he came into her life to help her work out past childhood wounds that were blocking her from feeling loved for who she was.
Merlin was powerful medicine in Elise's life at that time. She had faced challenges with her birth family and ever since Merlin came into her life, she was beginning to release the past and felt more confident about her future. Because Elise was involved in hospice work, Merlin knew she could help him become a therapy dog which was part of his soul's plan.
Since animals are beings of pure light and love, we want to be able to communicate with them and understand what they are telling us. They can be our pets, or animals that we meet even for a brief moment. And yes, we can all do this, it just takes patience, practice an open heart and mind.
If you are working long distance with an animal, a picture, name, and age is helpful so you can hold their image in your mind. Also keep a notepad or recorder to save the information that comes through. Here are a few steps to get started:
1. If you are doing this for someone else, get an idea of what they want to know. Often they might be concerned about behavior, mood, or have questions about issues that are coming up. Or maybe they simply want to relay a message to the animal or hear what they might want them to know. If it's for yourself and your pet, you might want to be able to open the channels of communication for each other.
2. You want to be in a clear state of being, and grounded before you begin. Take a few deep breaths in and out, and center yourself. Close your eyes and start to scan your body from your head and continue to your feet. If there are any thoughts or physical sensations, just let them go, as you want to be a clear channel and come with respect and integrity.
It often happens that a man is more humanely related to a cat or dog than to any human being ~ Henry David Thoreau
3. There are often animals who show up in your life for a brief moment as messengers, who have animal medicine for you, or seek you out for help. You may know instinctively what they are telling you, or just ask them. You can also look up the symbols and characteristics of that particular animal or their medicine.
A large turtle came into our yard some time ago, which is quite unusual. I carried her back across the road, where there were woods and a pond nearby. She came across again, right up to the front door. I noticed something was wrong with one of her legs.  I spent time sending her leg healing energy. She closed her eyes and rested, then got back up, walked away and appeared fine, then looked back and I felt her love filling my body.
That turtle taught me the lesson of "turtle medicine" the ancient wisdom of patience, determination and traveling lightly carrying your house of your back. I picked her up and took her back across the road to the pond and did not see her again.
These are just a few ways to open up communication with the animal kingdom. I can tell you we will be forever changed!  We are all one together on this beautiful planet, equal partners, co-creating and supporting each other.

unleashed Maggie's innate Gifts as a powerful Intuitive Reader. What followed was a rewarding career as a Tarot Reader, Numerologist, Reiki Master, and Angel Card Reader—to name just a few of her remarkable skills. Maggie's accomplishments include on-air co-host for Blogtalk Radio, several published articles on Tarot and Numerology, she's an endorsed reader for The Tarot Guild, and a much sought after Intuitive Reader hired for both corporate and private events. In addition, she has a YouTube channel where you can view and subscribe to her weekly vibes. If you'd like to personally tune-in to Maggie's unique and highly accurate vibe, for yourself, you can find her at PsychicAccess.com.


Maggie helps people turn the radio dial up on their vibrations to hear the messages you're meant to receive. It all began as a teen with a dog-walking job in the neighborhood that—if you'll excuse the pun—