The Benefits Of Reiki Attunement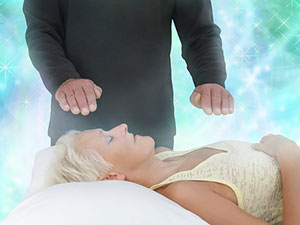 I am a huge fan of Reiki and I encourage everyone to become attuned in Reiki. An attunement permanently opens your crown, third eye, throat, and heart chakras, so that you will be able to channel Reiki to yourself and others. The crown chakra and third eye chakra are both key to opening up and connecting with angels and spiritual masters. Especially anyone desiring to take their intuitive abilities to the next level should seriously consider a Reiki attunement.
There are many amazing healers who offer Reiki attunements, but when you are searching for someone reputable be sure to make sure they have the necessary credentials. Pick someone you resonate with, who "feels" like they would be a good match.  Often your own guides or angels will steer you toward the perfect person who will be the perfect match.
We are all spiritual energy (Reiki) already, practicing the system of Reiki will help us to rediscover this ~ Frans Stiene
You can also try Reiki attunement videos available online from reputable sources. It is a very cost-effective way to be attuned if you do not plan to use your attunement in your professional career. If you are a healer and are wanting to become a Master Teacher of Reiki, I do recommend a more personal, one-on-one experience with a local Master Teacher, at least for your beginning attunements.
I once had a gentleman come to one of my Reiki classes and I asked how he had heard about me. He said one night in a dream an angel came to him and said you will be attuned in Reiki by a person named Julie. He said at that moment he went in search of someone named "Julie" who would complete this experience and when he met me at a psychic fair he instantly knew I was the one. I got chills when he shared that story with me, which is always confirmation that what you just heard or said is truth. It is also known as "angel goose bumps".
There are several reasons why a person would want a Reiki Attunement:
Self-healing
Assisting healing for a sick family member
Helping a friend who has physical pain
Healing pet ailments or disease
Increase intuition
Spiritual connection
Raise vibrational frequency
Opening up your Spiritual Sight ability
Deeper connection with God
Become a conduit to assist in planetary healing
Every existence has healing power. Plants, trees, animals, fish and insects, but especially a human as the lord of creation has remarkable power. Usui Reiki Ryoho is materialized the healing power that human has ~ Mikao Usui
Who should be attuned? Anyone, but especially those in the helping professions: doctors, nurses, massage therapists, natural healing practitioners, personal trainers, fitness experts, yoga instructors, reflexologists, energy workers.
Reiki is also highly recommended for people who have conditions like fibromyalgia, Lyme disease, back pain, headaches, skin rash, and so forth.
I've been using Reiki myself for about eleven years now and have even taught my husband and daughter when she was twelve years old. We've used it on ourselves, each other, our pets and other family members and friends with great success.
The most common thing people report is a sense of calm and a feeling of love washing through them, along with healing or relief of the issue they are experiencing.  I'm always amazed at the healing that often occurs with such a simple technique and the investment is well worth it.
About The Author: Julie

Julie is a psychic Medium, healer, and spiritual educator from Wisconsin with a plethora of metaphysical credentials too long to list here. After her father's passing, almost eighteen years ago, she fully embraced her natural gifts as a psychic Medium and now works full-time helping others all across the globe with spiritual readings and teachings from the beyond. She is the host of two radio shows, the owner of her own healing business since 2007, and heads an online University for international soul development (HSU). Julie is a Channel for Archangel Metatron, delivering clear messages to clients that transform their lives. If you'd like to experience this highly qualified and gifted metaphysician for yourself, you can find Julie at PsychicAccess.com.