What Kind Of Flower Are You?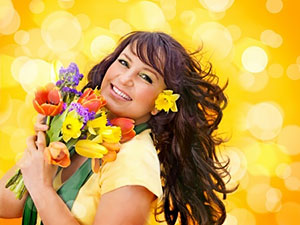 What kind of flower are you? This was an exercise that we would play in groups. Each of us took a turn to name the flower that we thought we were. We analyzed what the flower represented, as a reflection of who we are, what we represented, and what our emotional needs were.
One woman chose a thistle! We laughed, but the truth is that a thistle is tough, prickly and the ultimate survivor. How appropriate for her. She is indeed a wise, strong and  persistent person, and I wouldn't want to mess with her.
I chose an orchid, as did my best friend. We knew we were not just any random flowers found in any old garden. My dear friend sent me the following "explanation":
People from a planet without flowers would think we must be mad with joy the whole time to have such things about us ~ Iris Murdoch
"Orchids have long been a symbol of love and beauty, grown by enthusiasts for their sheer elegance and fascination. The proper care of orchids starts with choosing ones that are suited to your particular environment. Each orchid has different requirements. Orchids are adaptable to most conditions, however, some of the more delicate varieties have more specific needs.
Please bear in mind that your orchid needs room to grow and requires certain minimum temperatures to do so. Your orchid can withstand colder temperatures for brief periods, but it will wilt if exposed to the cold for an extended length of time. Some orchids require different growing mediums, so you will need to provide something suitable.
Many orchids take time to flower so you need to be exceedingly patient. You need to feed your orchid. Do not prune your orchid like a shrub. You could damage it by doing so. Understanding the needs of your orchid will ensure your best chance of success."
Someone chose dandelions as their "flower." You may think of this as a weed, but what does this weed represent? Hacking down dandelions does not get rid of them, they are well rooted and will grow again. When a dandelion goes into flower, we blow on it and make a wish, the seeds scatter for miles when picked up by the wind. I would strongly say, that they are resilient and what they represent is the spreading of love, hope, and all things good about themselves. Wonderful message in that!
Flowers have an expression of countenance as much as men or animals. Some seem to smile; some have a sad expression; some are pensive and diffident; others again are plain, honest and upright, like the broad-faced sunflower and the hollyhock ~ Henry Ward Beecher
Let's move onto the roses – beautiful to look at, but watch out for those thorns. Does this say something about their personality? Of course it does.
Next time you are with a group of friends, play this game.  Think about each flower, their colors, how they grow, and what similarities your personality has in relation to this particular flower. These conversations can get quite deep, if you are not sure of a meaning of a color, by all means Google the metaphysical meaning of colors for some guidelines. I can guarantee you that this will start some very interesting conversations in getting a better perspective of self.

About The Author: Isthemus

Isthemus is an experienced psychic advisor with her own Metaphysical Company based out of the Fraser Valley of British Columbia. A natural born empath, clairsentient, clairvoyant, intuitive Counsellor and psychic advisor. Patty still does Paranormal Investigations as well as teaching workshops on how to interpret signs. You can talk to Isthemus at PsychicAccess.com.


2 Responses to What Kind Of Flower Are You?