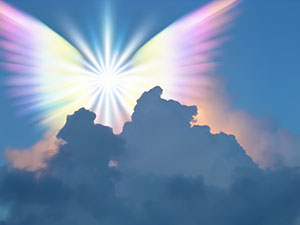 Angels are the Divine's messengers and helpers of the spiritual realm. They are the ones with pure light, and without Ego. We have been reading and hearing more people talk in recent years about their encounters with Angels. It's becoming more acceptable to talk about these experiences.
My mother worked with the Angels when I was a young child, and she encouraged me to do so in prayer and meditation. We had Angels in every room – either in a statue or picture. They were gentle reminders that the Angels were always with us. When people would enter our house they would ask what was up with all the Angels, and my mother's reply would be, "Can't we all use that extra bit of help?"
Angels have no philosophy but love ~ Terri Guillemets
People have asked me, "How do I know if it's an Angel or a departed loved one, or another spirit making contact?" With Angels the presence is light not dark. They never interfere with our soul's mission, and they never tell us what to do.  Sometimes it feels like we are wrapped up in a beautiful warm pink blanket, often we feel filled with light and peace, other times we just know the answer, or can feel the gentle energy around the situation.
When we ask for help, the Angels may send us signs or answers, also traditionally known as "cledons." The phenomenon of cledons date back to the time of Cicero and Pythagoras, who is often referred to as the Father of Numerology, because he worked also with numbers, vibration and color.
These omens, or what I refer to as "everyday signs," can come from something we overhear on the radio, a conversation in a restaurant, a message on a license plate, or the phone conversation of a passerby. A cledon is that word or phrase we hear in a chance encounter that we know was meant especially for us.
Often we get busy and don't pay attention. When a cledon comes it is often useful to just write it down. Later you may have that "Aha!" moment, knowing that it is a piece of the puzzle or answer you were looking for.
I have been working in the metaphysical field since I was very young, whether it be through psychic intuition, energy work, Reiki, crystal readings, or Tarot cards. My husband will ask, what do the cards say, or what are you being shown about a situation he is concerned about. As I have a look into it, I also ask, "What do the Angels say about this situation."  They will then often give me a vision or feeling of the energy of that situation, in addition to the other divination methods I may feel that might be appropriate to use.
Make yourself familiar with the angels, and behold them frequently in spirit; for, without being seen, they are present with you  ~ St Francis of Sales
I am always calling on the Angels before I do a psychic reading, as well as in my everyday activities. I ask the angels for guidance upon waking, before sleep, during animal communication, and when I write, as I know I will be divinely guided. I work with specific Angels for help in different matters.  As you become more familiar with them and their specific talents, it becomes more natural to work with the Angels. It is a great comfort to know that we are never alone; they are always there to help and support us.
In my next Angel blog, I will talk about the Angels who have been working with me lately on topics that can help all of us.

unleashed Maggie's innate Gifts as a powerful Intuitive Reader. What followed was a rewarding career as a Tarot Reader, Numerologist, Reiki Master, and Angel Card Reader—to name just a few of her remarkable skills. Maggie's accomplishments include on-air co-host for Blogtalk Radio, several published articles on Tarot and Numerology, she's an endorsed reader for The Tarot Guild, and a much sought after Intuitive Reader hired for both corporate and private events. In addition, she has a YouTube channel where you can view and subscribe to her weekly vibes. If you'd like to personally tune-in to Maggie's unique and highly accurate vibe, for yourself, you can find her at PsychicAccess.com.


Maggie helps people turn the radio dial up on their vibrations to hear the messages you're meant to receive. It all began as a teen with a dog-walking job in the neighborhood that—if you'll excuse the pun—