Eulogy For My Psychic Mentor
Published
May 10, 2015
|
By
Indigo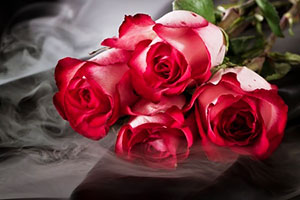 On Friday, February 6, 2015, at 7:07pm my friend and colleague Sally Jacobsen (aka Salome Shaman) took her final breath. She was surrounded by her five children and, despite the many tears, it was a peaceful passing. Later there were close to 100 people at her funeral and the messages given were powerful and unforgettable.
Before I met Sally, she had already made a name for herself in our local Pagan community. She was talked about in almost reverent whispers: "Have you ever met her? Isn't she the one who helped the police find that missing girl? You should take a class from her, she really knows her stuff."
When I finally met her, I remember thinking that there was an almost regal bearing to the way she held herself: her posture was completely correct, her make-up flawless, not a hair out of place. It felt like she knew what was being said, but didn't care. She knew who and what she was, confident in everything about herself, and in what she did.
Death leaves a heartache no one can heal, love leaves a memory no one can steal ~ From a headstone in Ireland
As she got to know me, she recognized something in me that needed to be nurtured and encouraged, so she decided to mentor me. She watched how I handled my Tarot cards, how I applied them to the questions being asked. She added more depth to my reading skills, then she helped me get my first gig on a psychic phone network. Later we worked together for several years at PsychicAccess.com*.
As I got to know her, I discovered that she was just a human being like the rest of us. She had a lot of knowledge and wisdom that I wanted, even needed, but she was also just a woman. Over the years she became my sister, my confidant, my counselor, one of my very best friends.
Every time we met, I learned more about my craft, about being a better psychic, and how to practice Wicca, and the consequences and responsibilities that came with it. She taught me how to connect with, and listen to my guides. She taught me how to see auras and what the changes in colors meant. She taught me how the chakras are supposed to work and how to clear them and make them spin the right direction at the right speed. She showed me how to manipulate energy.
About six years ago, I suddenly started getting messages from the deceased. I totally freaked out and called Sally right away. She explained that I was entering the next phase of my psychic development: mediumship. That freaked me out and I told her in no uncertain terms that I didn't want to be a medium!  She laughed at my fears and frustration, and said it didn't matter what I wanted, this is what "they" want. "You're just the messenger, so deal with it," she said.
I took a couple of steps back and decided to stop resisting and just go with it, and see where it went. Since spirit mostly came to me in the shower, she helped me set up a safety zone in my bathroom, so they couldn't bother me when I had shampoo in my hair or soap in my eyes!
My health isn't very good. Ironically, a few weeks before she passed, Sally kind of "chewed me out" and begged me to take better care of myself, because she couldn't stand it if she lost me too. So, imagine my shock when I got that news about her instead. The day after she passed, I was in the shower and guess who stopped by to say hello? Yes, it was Sally. I said, "Really Sally? In the shower?" She just laughed out loud the way she always used to, and then she zipped off.
While we are mourning the loss of our friend, others are rejoicing to meet her behind the veil ~ John Taylor
Even though we had our disagreements, Sally was a very important part of my life for 20 years. I still talk to her, and she still answers, but I do miss her dearly.
Now for some food for thought on her passing. I believe that some illnesses are the physical manifestation of a metaphysical belief or thought. Many years ago I worked for a survivalist who religiously read all of the books written by well-known author Louise Hay. In her books she explains, among other things, that our subconscious doesn't have a sense of humor and accepts whatever our conscious mind imagines or thinks. Therefore, we need to be careful of what we say, what we believe and what we wish for.
Sally regularly suffered severe headaches and would often say: "My head is killing me." In December 2010 she was rushed to the hospital with one of those headaches and initially they thought she had meningitis, or had had a stroke. It turned out to be an aneurysm – a very small one that could be cured. About two years later she had another one, again minor. But in February 2015 she had another one, this time at her brain stem and it was fatal. There was no brain activity by the time they got her to the hospital. They put her on life support, until her youngest son could get back home from Afghanistan. Then the family disconnected the life support.
In her own choice of words, her head literally killed her, and I can't help but wonder, if she had chosen her words more carefully over the years, could it possibly have changed her life?
*Psychic Access mourns the loss of our beloved friend and colleague, Salome, and we hereby extend sincere condolences to her family and loved ones. She will be missed and always remembered. A life that touches others goes on forever.
About The Author: Indigo

Indigo is an Indigo child, her gifts have been handed down through generations, and she has used them since she was a teenager. Using a unique blend of, tarot, astrology, numerology, psychology and clairvoyance, she is able to give you the most information in the shortest time possible to help you find a way to change your situation. She has been a spiritual advisor in her community for 20 years and continues her education, while fostering the gifts she has handed down to her grand-children. You can get a reading from Indigo at PsychicAccess.com.


Posted in

Afterlife, Aura Readings, Career, Chakra Readings, Conscious Creation, Divination, Lightworkers, Mediumship, Metaphysics, Psychic, Psychic Readings, Shamanism
|
Tagged

aura reading, beliefs, Chakra Readings, creation, death, friends, grief, guidance, illness, Lightworkers, manifesting, mediumship, memories, mourning, pagan, professional psychics, psychic development, psychic protection, psychic reading, self-confidence, shaman, spiritual advisor, spiritual counseling, spiritual messages, spiritual teachings, Tarot readings, Wicca, words
One Response to Eulogy For My Psychic Mentor
This site uses Akismet to reduce spam. Learn how your comment data is processed.