My Life Didn't Go As I Had Planned…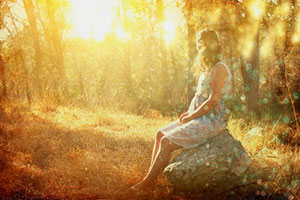 When I look back on my life, I am so pleased that it didn't go as I had planned. Did I ever think I would be using my psychic and healing abilities to help other people? Definitely not! There is no way I would have had any inclination of using my abilities all those years ago. I had a very different life planned back then. Yet, doing this work today has brought me the greatest joy and fulfillment I have ever known.
I know that my psychic and healing abilities run on my mother's side of the family. My great grandmother was from Eastern Europe and when she arrived in this country she brought with her the legacy of folk remedies and traditional medicine of my ancestors, such as the use of herbs and tinctures. She was also able to read tea leaves. The art of reading tea leaves led her to make extra money for her children, who turned out to be my grandfather and his sister. She became well-known as a psychic reader in the area.
Nearly all the best things that came to me in life have been unexpected, unplanned by me ~ Carl Sandburg
Even knowing this information about family background, I still had no desire to use my psychic and healing abilities until the year 2000. No, I had other plans for my life.
When I was a little girl, I could sense things others could not. I would have virtual strangers come to me, confiding in me about their problems. I even saw my deceased grandmother appear to me when I was six years old, to tell my mother that she was doing well. Did this freak me out?  No! I had angels and those who had crossed over appear to me as far back as I could remember.
Yet, my stubborn streak kept me from my true calling. A decade ago I was still planning on returning to school and getting a degree in Business or Law. Up to this point, I was aimlessly going through life and I wasn't really happy. I was in fact feeling quite empty – as if my will to live was null and void. A hot, late summer in September would change all that.
In September 2000 I woke in the hospital one day remembering seeing a white light and intuitively knowing my life had changed forever. From that moment on, I knew my calling in life was to use my psychic and healing abilities to help others.
We must be willing to let go of the life we planned so as to have the life that is waiting for us ~ Joseph Campbell
I would later learn I had what is known as a Near-Death Experience (NDE). During this life-changing event I visited the other side and came back to tell the story. The NDE also re-opened the psychic and healing abilities I had so long suppressed.
In reality, my NDE saved my life as I no longer feel as I am just aimlessly going through life. Quite the contrary, I am living my life to the fullest with life-fulfilling work! I am able to speak with so many individuals each and every day. My work is helping me personally in so many ways also, because I am able to learn from the people I help.
My life may not have gone as I had initially planned, but it turned out better than I could have ever had dreamed or imagined.

About The Author: Angelic Amy

Amy's two near death experiences (NDE's) pushed her natal psychic abilities into overdrive and her story is featured in a famous psychic medium's new book! She's experienced a rich life full of more ups and downs than most encounter in a lifetime, which has only helped her connect to her clients on a deeper level. Tapping into her clairvoyant, clairaudient and Mediumship abilities, Amy is a prominent radio show host, has appeared on other radio shows, and is a popular Tarot reader at Psychic Fairs and parties. This native New Yorker is an experienced energy healer, a Reiki Master, and channels gentle Angelic energies through an Integrated Energy Therapy Technique. It's an honor for Amy to help you in your time of need. If that time is now, you can find this gifted psychic at PsychicAccess.com.