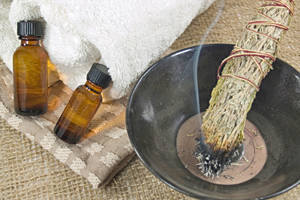 The ancient Native American art of smudging is a powerful way to clear the energy of a space or person. You can use the traditional dried herbs, or try the oils – it's ideal for those who are sensitive to smoke. Unfortunately, our modern lifestyle does not always allow for physical smudging using the herbs, but there is an alternative.
When I found myself once in a place where I was not able to smudge in the traditional way, my guides revealed to me the following mediation as a way to clear my space and mind using a smudging visualization. This is ideal when you don't have a smudge stick available or when you are in an area where you can't use it.
This meditation is a great to clear energy in your environment of anything you feel is negative, or doesn't serve you well. So try it next time the air feels heavy around you.
Visualization and belief in a pattern of reality activates the creative power of realization ~ AL Linall, Jr.
Smudge Meditation
1. Sit or lay down in a quiet place where you won't be disturbed.
2. Close your eyes and relax. Take three deep breaths in and out through your nose. Feel your body, especially your shoulders relaxing. Take another three breaths if you need too.
3. In your mind's eye visualize a bowl or shell filled with white sage, and a beautiful feather.
4. Light the sage and watch as the smoke begins to rise. What does it look like? What does it smell? How does the container in your hand feel?
5. Now use your feather to move the smoke around your body by bringing it towards you, and around your space by moving it away from you.
6. As you are doing this you can say the following prayer, or whatever else comes to mind and resonates with you.
All those who are around me, guiding me, protecting me. Please use this smoke as a tool to remove any energies in my surroundings that are negative, or no longer serve me. Please guide them to Light.
7. You can repeat this chant as many times as you need to during your meditation.
8. When you are done, thank everyone that has come to assist you. Take three deep breaths in through your nose and out through your mouth, and gently come back to the present.

PsychicAccess.com.


Joy is a Florida native, born with strong Medium and Psychic talents to feel, hear and see what others can't. Early on, she pushed her abilities aside, but her Spirits, Angels and Guides were just too stubborn and strong to ignore! With the help of important mentors, such as John Edward's teacher, she learned to embrace her Soul's purpose to service others and now does so with gusto—changing one life at a time. She's a Certified Reiki Practitioner, provides Psychic Readings and Channeling at parties and is expert in crystals, Tarot and Auras. If you're interested in a Spirit Makeover that will improve your life and fulfill your Soul's purpose, you can find Joy at