Messages From The Other Side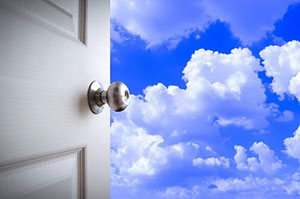 People consulting us for readings regarding loved ones, both in the here and now and departed, are an everyday occurrence. But sometimes these readings take us to uncomfortable places.
My first ever mediumship reading was one of those. A nationally prominent attorney had been murdered and his grieving family wanted to know who was responsible. This particular man had a powerful personality in life, and he was no less powerful in death! He stayed with me and followed me around for days in my waking moments. He even invaded my dream state.
Why was he so insistent? He wanted his family to stop wanting justice and revenge. He wanted them to just leave it alone and let him be, as he had lived a great life and he was ready to be where he was. He wanted them to just move on with their lives and be happy. Their grief and focus on justice was keeping him Earthbound.
When I was 17 I had my first visit from Sam. Sam is my spirit guide who literally introduced himself! It was probably the most startling, yet loving, experience I've ever had ~ Derek Acorah
You see, from his perspective, he could see the greater purpose and plan. He held no anger and feelings of revenge or justice.  He was happy and ready to leave. His life had been full. He had achieved a great deal, and had a big loving family. He had had an exceptionally successful career. He was content. He simply wanted his family to feel the same.
This experience affected me so intensely, that it led me to make a decision not to talk with any others who had passed over.  But, spirit had other plans.
A few years later, while visiting a friend, I decided to read a book one evening, written by the famous medium, James Van Praagh. In the early part of the book, he began to describe how he got started in that line of work – he had been instructed to start a weekly group to practice making contact with the other side.
Much to my amazement, when I reached that point in the story, the lamp next to the bed started flashing on and off. Next, a portable land line phone I had with me (with the intent of getting a new battery) suddenly started ringing. How was it even possible to be 300 miles away from home and have a phone, with no battery or charge, ringing?
When one comes back to bring through messages, many times they are of a regretful nature. They wished they knew how they should have treated people when they were alive. They wished they had loved themselves more. Most messages are indeed about love ~ James Van Praagh
I got up, turned off the phone and checked the cord and connection on the lamp, and then settled back into bed to resume reading. Lo' and behold…the same thing happened again, as soon as I got to that particular passage in the book. At this point, there was nothing left for me to do except to say to my guides, "Okay, I get the message!"
The message for me was that they wished me to start doing more mediumship work, which I had always shied away from. Sometimes, Spirit is very subtle, and sometimes it is more direct. Are you listening to your spirit messages? One thing I have learned is that Spirit is patient and doesn't give up. They keep reminding us over and over until we get it.
About The Author: Sharon Michelle

Sharon Michelle is one of the most experienced psychics contracted by Psychic Access. She built a successful metaphysical career spanning almost four decades, primarily from private practices located in Texas and California, with many clients also scattered around the country. She began her career as a professional psychic in 1970, after a near-death experience boosted her gift to a new level. She first worked out of her home, receiving clients through word-of-mouth. Later she also worked with great success at psychic fairs in several states, and eventually she was also employed by numerous well-known psychic hotlines. By the end of the 80's, Sharon had developed a strong reputation as a psychic reader, author, lecturer, and teacher. Get a reading with Sharon Michelle at PsychicAccess.com.


This site uses Akismet to reduce spam. Learn how your comment data is processed.