The Magical Mysteries Of Sensual Scents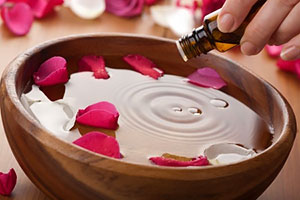 Our sense of smell is powerful and can trigger memories and intense emotions. Scent has the ability to calm, to invigorate, to help heal, and to even act as an aphrodisiac.
If you think about it for a moment, you will probably find you can quite easily think of a favorite scent and relate it to a happy memory from your childhood, or youth. For example, many people love the smell of vanilla, not only for its remarkable scent, but for the wonderful memories it may illicit, like fond memories of your grandmother baking cookies.
The use of essential oils is called Aromatherapy. Aromatherapy is a great tool to help you relax, sleep, clean, heal and even meditate. Aromatherapy is the easiest alternative therapy to use and is often inexpensive. All you need is your bath tub and an essential oil like lavender or viola, and you instantly have an aromatherapy session that will leave you feeling refreshed and relaxed.
A good fragrance is really a powerful cocktail of memories and emotion ~ Jeffrey Stepakoff
Essential oils are the healing properties found in plants and are extracted using a variety of sources. They range in price from very cheap, for example orange oil, to very expensive, like the fabulous rose essential oil. Neroli, rose and jasmine are some of the more expensive oils, and three of my personal favorites.
Most of the essential oil manufacturers now also make a "precious oil". A precious oil is when the expensive oil is diluted in a jojoba oil base. You still get the same great scent, but note that some of the therapeutic properties may be lessened.
There are many ways to use the oils every day. Another one of my favorites is tea tree oil. It is a great antibacterial; I make a cleaning spay to use around my dogs comprised of water, dish soap and several drops of tea tree oil. It helps with keeping fleas and flies away as well.
If you are hoping to attract a passionate romance into your life, you may want to bathe in jasmine or neroli oil. I love the scent of both. You can also make your own perfume by adding a few drops to vodka and mixing it thoroughly. Just dab a drop of this simple magic potion on your wrists and let your pulse push your scent into the universe.
Science is now confirming what has been known for centuries: essential oils have healing properties on both physical and emotional levels ~ Valerie Gennari Cooksley
I love making a special synergy blend for meditation, which is relaxing and also heightens your intuition. Try rose oil which is great for focus and concentration. Place some in an essential oil burner with a drop of water and heat with a tea light candle. Or use an electric diffuser. Rose is my absolute favorite oil and I also add it to my homemade soaps and creams.
Lavender is a very popular essential oil and is great for insomnia and anxiety. Try making your own bath tea by combing some dried lavender petals, Epson salts and lavender essential oil. Place a tiny bit of each in a small cotton tea bag and place in a warm bath. The effects are amazing and the smell is heavenly. You can also just sprinkle a few drops on your pillow and drift off into a great night's sleep filled with peaceful dreams.
About The Author: Nancy

Nancy is a Canadian native and Indigo/Star Child, born with a heightened spiritual awareness. She's been communicating with Angels since the age of four and enjoys a close relationship with Mother Nature that extends to the Animal Kingdom. Attracting people and animals in need, she receives premonitions and visions and heals troubled souls through the many gifts she's employed in this life, as well as other lifetimes before. Energetically, she draws people and animals to her and compassionately connects to every soul, drawing from her well of experience as a Social Worker, Tarot, Angel and Animal Reader, Aroma Therapist and Master Herbalist, to name but a few of her many prized offerings. If you'd like a reading with this Empathic, devoted and highly gifted Intuitive Worker, you can find Nancy at PsychicAccess.com.