You've Heard It Before, But Take Some Time Out!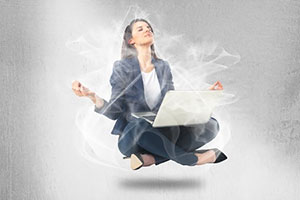 In the schedule-driven course of modern life we tend to lose touch with ourselves. Whether it's picking up the kids from soccer practice, or that 9:00 AM meeting at work, we bend and mold our lives around the demands placed upon us.
I've heard clients describe being pulled in too many directions; of stress around interpersonal communications both at work and at home; and of losing themselves, resulting in feeling depressed and confused. After a while, we begin losing our effectiveness and self-confidence.
I hope that by reading this, more of us will become aware of our depleted selves and take steps to renew and refresh our spirits. I know you've heard this before, but here it is again: take some time out, physically, mentally and spiritually! Make realistic goals and take some time for fulfilling them.
The man who doesn't relax and hoot a few hoots voluntarily, now and then, is in great danger of hooting hoots and standing on his head for the edification of the pathologist and trained nurse, a little later on ~ Elbert Hubbard
Try to spend part of this time alone. Sit in a hot tub, on the beach, in the woods, at a café. Choose your favorite place. Focus on listening to the sound of your breathing. Exchange the air in your lungs, in your cells, with the freshness of new breath in the outdoors. Empty your mind. Do nothing but breathe. This should be daily practice, as little or as much as you need. Get in touch with the essence of who you really are.
Expand your practice to doing physical activities and train your mind to stay in the moment, instead of ½ hour ahead when you will be obligated to someone. Stay in the moment and preserve your true self.
To this day, I believe, David Lynch, the filmmaker, will stop everything and meditate. He does this twice daily, and attributes his creativity to this practice. His creativity is so unique, that even the outcomes of his films or series are unpredictable.
Long ago in the corporate world, I worked for a progressive computer company where the philosophy was, "Your hair grows on company time, so get it cut on company time." I definitely felt more special when leaving early to get a haircut in the city, followed by dinner and a concert. I extended the specialness of the day, and always came into work the next day with renewed vigor and fresh ideas. Smart company!
I hope that in some small way reading my blog will remind you to take time for your own renewal. If you'd like a custom plan, call me on PsychicAccess.com and I will be happy to work through the Tarot and uncover what is most important for you to know at this time in your life.
About The Author: Dianna

As a conduit to Spirit since birth Dianna provides channeled information from her Guides, Archangels, Ascended Masters & Animal Spirits. During readings, information comes to her through telepathy, empathy, visual images and physical sensations. She additionally uses Automatic Writing for very specific details and timing, Tarot and the Lenormand Cards. Dianna's specialties are providing you with remarkably accurate answers to your questions using her psychic consciousness to assist you in reaching new and rewarding goals. A Libra/Aquarius rising with three grand trines in her chart, Dianna has chosen to use her psychic gifts and Reiki Healing Energy to help others, providing practical answers to life's questions plus healing and clearing blockages. You can get a psychic reading from Dianna at
PsychicAccess.com.