Three Keys To Making Life-Changing Decisions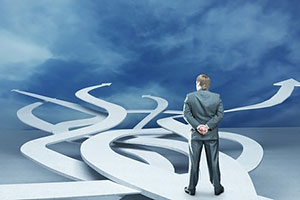 Do you have a difficult decision to make? Is it driving you crazy just thinking about it?
Most everyday decisions are usually easy to make, but some decisions require special consideration.
Sometimes in life you come to a fork in the road. And whether you go left or you go right can forever change your life. In these challenging moments it is often best to resort to spiritual guidance.
The keys to life-changing decisions are often found in seeking inner wisdom from a higher source greater than our Self. If you are faced with a fork in the road here are three simple tips to help you make that life-changing decision.
Trust your instincts, and make judgements on what your heart tells you. The heart will not betray you ~ David Gemmell
1. Invoke your Angelic Team
Don't just ask say, "Okay everybody I need help now," but really open your heart to Divine guidance:
• Close your eyes
• Take three deep breaths
• Place your hand on your heart
• Open up to receive Divine Guidance
• Ask: "Which path would bring me closer to my highest good, which path takes me further away?"
• Pay attention to feelings that arise, images, or words
Don't worry about getting an answer right away. It will be revealed to you if you ask the question. Oftentimes, I will write the question on a piece of paper and slip it under my pillow at night. When you awake in the morning ask the question again and more insight and wisdom will come through.
Do you need help invoking your Angelic Team?  Check out the book 365 Days of Angel Prayers. I am the chapter spokesperson for the month of June and have 12 prayers sprinkled throughout the book, which is designed to help you walk daily with your Angels creating magic and miracles in your life.
Don't entrust your future on others' hands. Rather make decisions by yourself with the help of God's guidance. Hold your beliefs so tight and never let go of them! ~ Hark Herald Sarmiento
2. Pay Attention
There are usually signs all around us that are trying to tell us yes or no, but we miss them because we are too busy and can't "hear" that still, small voice trying to direct us.
Slow down. Take time out for yourself on a regular basis and get in touch with your inner wisdom so you can really become aware of the signs spirit is trying to give you that you keep missing.
This may be the time to take up meditation as it is an excellent way to help you tap into your inner knowing.
3. Seek out a Second Opinion
Try talking with someone about the decision you need to make and ask them to pay attention to your voice intonation and facial expression. Sometimes the answer is hidden in your language and easily identified by a second party. Just make sure the person is able to be objectionable and that they don't have any personal stake in the outcome.
Usually the path you are suppose to take makes you light up like a Christmas tree or explode with excitement, like fireworks on the fourth of July. The path you should stay away from usually feels flat and unemotional. It is often times difficult to disguise your true feelings and emotions when confiding in your best friend or mentor.
If you're still confused, don't despair. Use what you don't want as your starting point. Sometimes it's easier to figure out what you do want when you are perfectly clear about what you don't want.
If you make the decision and find yourself unhappy remember, there are no mistakes in life only opportunities to grow and expand into the fullest expression of your Self as love.
I would love to help you in making decisions in your life.  Turning to a Psychic to clarify your life choices can prove to be an incredibly valuable tool.
About The Author: Julie

Julie is a psychic Medium, healer, and spiritual educator from Wisconsin with a plethora of metaphysical credentials too long to list here. After her father's passing, almost eighteen years ago, she fully embraced her natural gifts as a psychic Medium and now works full-time helping others all across the globe with spiritual readings and teachings from the beyond. She is the host of two radio shows, the owner of her own healing business since 2007, and heads an online University for international soul development (HSU). Julie is a Channel for Archangel Metatron, delivering clear messages to clients that transform their lives. If you'd like to experience this highly qualified and gifted metaphysician for yourself, you can find Julie at PsychicAccess.com.