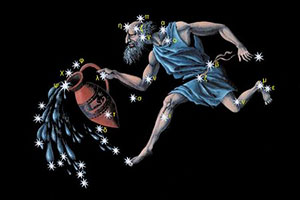 Happy Birthday Aquarius, the Sun is currently in your sign. But that's not all! January 20th, the first day of Aquarius, also brought an Aquarius New Moon this year – our first New Super Moon of 2015. So, there is great energy for all Aquarians in the upcoming weeks.
Aquarians are the free spirits, the star people, the innovators – independent, intellectual, and humanitarian. You also enjoy variety, are unconventional, and often welcome change.
You may seem aloof at times, but your mind is pointed toward the future and the stars. You are the Water Bearer, and your symbol is water, but you are not a water sign. Your element is Air and a fixed sign in the Zodiac. You pour out your ideas freely and feel that there is a never ending flow of abundance.
Aquarius is essentially a realist, even though his address is tomorrow, with a wild-blue-yonder zip code ~  Linda Goodman
In Tarot the Star card is associated with Aquarius and it's planet is Uranus, which is not afraid to shake things up and loves adventures, and keeping things new and exciting. Uranus is like that Wild Card, or Happy Squirrel card that some "indie deck" creators include in their oracle decks – things can go either way.
The Water Bearers are connected to the 11th House of the Zodiac – the house of friends, groups, goals, wishes and hopes for all of humanity. It's where we join with like-minded people. But if you are in a relationship with an Aquarian, know that it's important to give them space.
The ruling body parts for Aquarius are the calves, ankles and circulatory system. It's important also for you to drink enough water to avoid cramps in the lower legs and headaches, as well ensuring support and taking care of your ankles by keeping them strong and flexible. You also need to be able to freely express your thoughts which can help with your circulatory system.
Your Sun stone is Garnet – a symbol of love passion, purity, truth. Garnet can help you to recall past lives, and it corresponds with the base chakra. Silver is also beneficial to an Aquarian, which has been said to help detoxify the blood, aid in circulation and drawing negative energy from the body and enhancing other stones during the Full and New Moons. Other stones that work beautifully with the Aquarian energy are Amethyst, Amber, Angelite, Aquamarine and Turquoise. There may be a special stone you are drawn to, so make that your signature stone.
Aquarians not only march to a different drummer, they make up new music as they go along ~  Joanna Woolfolk
The flower for Aquarius is the Orchid, which has a high vibration and lifts up our energy. Orchids serve to remind us not to give up on our goals and life purpose, by taking one step at a time to reach our goals. It also reminds us that we deserve the best and not to settle for anything less!
The Archangel associated with Aquarius is Uriel, the most cerebral of all the Archangels. His name means "Light of God."  His vibration is a pale, yellow light such as a candle's flame.  He assists you with great insights, when you need a sign or specific information, and gives you confidence around fear and change. Archangel Uriel can help you to organize and proceed with your project, and can shed light on anything you need to take a look at. He is also an excellent Angel to call upon in computer and technical matters, which can be a great help during Mercury Retrograde.
Aquarius, you bless us with your gift of vision, idealism, and the dream of making our planet a better place for everyone. So, Aquarius, enjoy the moment. It's your time to shine.

unleashed Maggie's innate Gifts as a powerful Intuitive Reader. What followed was a rewarding career as a Tarot Reader, Numerologist, Reiki Master, and Angel Card Reader—to name just a few of her remarkable skills. Maggie's accomplishments include on-air co-host for Blogtalk Radio, several published articles on Tarot and Numerology, she's an endorsed reader for The Tarot Guild, and a much sought after Intuitive Reader hired for both corporate and private events. In addition, she has a YouTube channel where you can view and subscribe to her weekly vibes. If you'd like to personally tune-in to Maggie's unique and highly accurate vibe, for yourself, you can find her at PsychicAccess.com.


Maggie helps people turn the radio dial up on their vibrations to hear the messages you're meant to receive. It all began as a teen with a dog-walking job in the neighborhood that—if you'll excuse the pun—