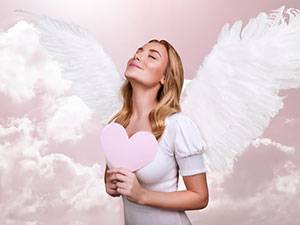 I have worked with the Angels and Spirit Guides throughout my life, and have discovered many lovely ways to get answers and support from these celestial beings.  I will be writing of my experiences here, and how they can help us to co-create with them for our life's purpose.
Although it may seem all too simple, all we really need to do is ask. The Angels need our permission to work on our behalf.  The exceptions that I have experienced are those emergency situations, when you find Angels arriving on the scene to remove us from immediate danger. They usually then disappear as quickly as they appeared.
The Angels are waiting for us to seek their assistance in small or large matters, and they delight in helping us. We each have one or two Guardian Angels who are with us from birth, but there are many Angels and Archangels who surround us with love and support. We just need to ask! Time is not linear to the Angels, so they can help all of us at the same time.
All God's angels come to us disguised ~ James Russell Lowell
As an illustration, I once engaged some contractors to whom I paid a sum of money upfront for materials. As soon as they had my money they suddenly became hard to reach, and they kept pushing forward the agreed date to complete their work. Rather than being frustrated, I spoke with Archangel Metatron, who can bend time and space, along with Archangel Michael, who is our great protector, and asked that they communicate with the different contractor's Angels and give them a gentle nudge to get started on the work. I then thanked the Angels and blessed all that would be working on the projects. The next day, all three contractors called and set up times that very week to start the work! Everything was finished perfectly on time and with great care, and they were even some extras they included.
I also used to work with Hospice patients in my Reiki and energy practice, and I would ask Archangel Raphael to go ahead of me, while I was driving to each person's house, and show me what that person might need, in addition to the energy work I would be doing. The patients and their family members were always so gracious and grateful, but they might hesitate to ask for something, or I would be shown other things that could bring comfort to them, or something that they might need done when I was there.
You can do this on your drive to work or when you first wake up, as you set your intentions for the day. Ask the Angels to make your way safe and show you the signs you may need for the day.
We are each of us angels with only one wing, and we can only fly by embracing one another  ~ Luciano de Crescendo
Another method is to talk to the Angels before you go to sleep. Share your cares and concerns with them so you can rest easier.  I have an Angel box next to my bed and sometimes I will write a little note for those things that I can't control, or that I am worried about, and end it with a "thank you." It just seems by doing this or talking to them, I feel so much better that they are working on this while I sleep. We often will get messages and answers during our dreamtime, or a sign later in the week that gives us confirmation as to our next step.
We are also here to help each other as "earth angels", as a part of our soul's journey: to lift up those we come in contact with; to lend a hand; to support each other; to send healing and prayers; and to listen and encourage. We have come here to bring more light into the world and see the hidden potential in each of us.

unleashed Maggie's innate Gifts as a powerful Intuitive Reader. What followed was a rewarding career as a Tarot Reader, Numerologist, Reiki Master, and Angel Card Reader—to name just a few of her remarkable skills. Maggie's accomplishments include on-air co-host for Blogtalk Radio, several published articles on Tarot and Numerology, she's an endorsed reader for The Tarot Guild, and a much sought after Intuitive Reader hired for both corporate and private events. In addition, she has a YouTube channel where you can view and subscribe to her weekly vibes. If you'd like to personally tune-in to Maggie's unique and highly accurate vibe, for yourself, you can find her at PsychicAccess.com.


Maggie helps people turn the radio dial up on their vibrations to hear the messages you're meant to receive. It all began as a teen with a dog-walking job in the neighborhood that—if you'll excuse the pun—