What Exactly Is It That You Do?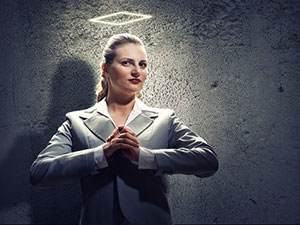 The question I get asked most often about my work is:  "What exactly is it that you do?" I have several different answers for that question, as I wear many different professional hats and it also depends on who is asking the question!
I believe in meeting people where they are at. When someone asks me that question, the first question I ask Archangel Metatron is "Can they handle the truth, or do they need a gentler approach?" More and more these days I hear, "Give it to them straight." But that wasn't always so.
Ten years ago, when I was a school teacher, anyone who dared call themselves a psychic were often regarded as nothing more than a "charlatan out to scam you for your money." Today I find that more and more people are beginning to recognize the value of professional psychics who are tuned-in and able to receive guidance from the spiritual realm.
Professionalism is like love: it is made up of the constant flow of little bits of proof that testify to devotion and care. Everything else is pretension or incompetence ~ Tomislav Šola
Usually I tell people I am a Psychic Medium. Most people say, "Oh, that is so cool!" Once in a while someone will simply say, "Oh," and then change the subject. Then there are those who tend to be a little more conservative whom I do not wish to shock. So, for them, I use the term Spiritual Counselor. I have never had an adverse reaction to that title. It is always greeted with the utmost respect and admiration.
Whether you are looking for a Psychic Medium or a Spiritual Counselor, it really doesn't matter. I believe all people who come to me are "heaven sent" and with guidance from above, I use the tools and techniques that are best suited for that person.
So what exactly is it that I do? I help people heal.
I help people heal relationships with others, with self, with spirit. I use a variety of techniques to empower you to reconnect and transform your relationships so that you may take your life to the next level of love, joy and happiness.
I work first and foremost as a Psychic Medium, but I also work as a Spiritual Counselor, a Certified Hypnotherapist, a Reiki Master Healer and a Psychic Business Consultant.
I am also a co-author of a best-selling book of Angel Prayers. I am the Chapter Spokesperson for the month of June and I have twelve prayers of Angel Love and Light sprinkled throughout the book. I am blessed to be able to walk daily with the Angels and honored to share my prayers with you, to help you learn how to invoke Angels in your life daily and watch magic and miracles begin to happen.
About The Author: Julie

Julie is a psychic Medium, healer, and spiritual educator from Wisconsin with a plethora of metaphysical credentials too long to list here. After her father's passing, almost eighteen years ago, she fully embraced her natural gifts as a psychic Medium and now works full-time helping others all across the globe with spiritual readings and teachings from the beyond. She is the host of two radio shows, the owner of her own healing business since 2007, and heads an online University for international soul development (HSU). Julie is a Channel for Archangel Metatron, delivering clear messages to clients that transform their lives. If you'd like to experience this highly qualified and gifted metaphysician for yourself, you can find Julie at PsychicAccess.com.


This site uses Akismet to reduce spam. Learn how your comment data is processed.