Make Girl Time A Priority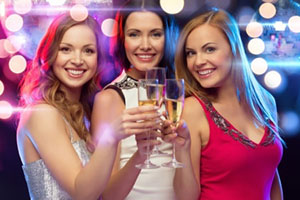 We live very stressful, busy lives, but around this time of the year the Angels want you to know that it is time to slow down and make time for family and friends. It's easy to get stuck in a rut with work and the never ending to-do list, but the Angels want you to know that when you make time for play you create balance and harmony in your life. When things are in balance they become easy and effortless; when things are out of balance you feel stuck in a rut.
A few years ago I found myself stuck in a rut of "all work and no play." One day, during meditation, I heard the call from my Angels that I needed to create more balance in my life. I began to miss my friendships with other women – "girl time!" So, I put it on my New Year's resolution list and decided that "I'm too busy" is never a good excuse not to hang out with the girls.
Go girl, seek happy nights to happy days ~ William Shakespeare
"I'm in the hospital;" "It's my husband's birthday;" and "I'm on an adventurous vacation;" now these are all good reasons not to hang out with the girls. But no longer, no more will I ever, ever, ever deny myself girl time because the laundry is piling up, or to get my email messages in order, or to catch up with work, and so forth.
I followed my own advice and now I have become best friends with a like-minded gal who came to an event I hosted several years ago. I've also become good friends with my neighbor who I've lived across the street from for the past 12 years, and I also have another friend who has recently reached out to reconnect regularly. On top of that, my daughter and I went on vacation with my sister and her daughter and had a fabulous time at an Art Festival in Fort Lauderdale. We're planning on doing that again this year!
The best part about girlfriends is that even if you fall off the face of the earth for a few years, they are always there to welcome you back when you once again begin to see the light of day. I encourage you to reconnect with your friends.
How To Make Girl Time A Priority
1. Call one person once a month to chat. Emails and text messages are great, but nothing beats the sound of her voice, and yours.
2. Do lunch or drinks once a month with someone besides family. It forces you to reach out and create relationships with other people.
Friendship is always a sweet responsibility, never an opportunity ~ Khalil Gibran
3. Birthdays are a great way to stay in touch. Create a birthday club for your friends and get together annually on everyone's birthday. The birthday girl gets free lunch and drinks for the day. Funny cards are also great. Gifts are nice, but I believe we've become too consumerist, so I prefer to stick with homemade gifts. Just being together is the gift in and of itself – nothing more needs to be done.
4. Send out a "just because" card, text or email. Tell your friend "just because I want you to know how great I think you are. Just because you popped into my mind today and I wanted to send you a card to brighten your day."
5. Schedule "girl time" on your calendar. When you get together, set a date for the next time before you leave the gathering.  When it's written on your calendar it's more likely to get done. Plus you get the added bonus of looking forward to something.
6. Discuss with your family how important girl time is for you.  When your cup is full you can give more to others. When you're running on empty all the time you have less energy and enthusiasm for your loved ones.
The Angels remind us that time spent outside of our family is important for our overall growth. Relationships and feeling connected in more ways than one helps us to feel balanced and in harmony with life, and helps us to create a stronger connection with our Spiritual Team of Angels. Also, remember those friends are being put in your path by your Angels to help you. Now call up your friends and plan your next girls' night out!
About The Author: Julie

Julie is a psychic Medium, healer, and spiritual educator from Wisconsin with a plethora of metaphysical credentials too long to list here. After her father's passing, almost eighteen years ago, she fully embraced her natural gifts as a psychic Medium and now works full-time helping others all across the globe with spiritual readings and teachings from the beyond. She is the host of two radio shows, the owner of her own healing business since 2007, and heads an online University for international soul development (HSU). Julie is a Channel for Archangel Metatron, delivering clear messages to clients that transform their lives. If you'd like to experience this highly qualified and gifted metaphysician for yourself, you can find Julie at PsychicAccess.com.