Grandma Two Cookies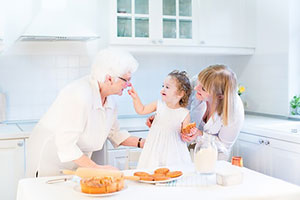 I've stated over and over again that I don't want to develop my gifts, or curses, beyond where I am now. Specifically, I don't want to be a medium. I've been laughed at and told to suck it up; that it really doesn't matter what "I" want, "they" want me to develop mediumship.
So, although I'm not happy about it, I'm not fighting it off anymore. The messages come through no matter what I want, I'm just the medium.
On Facebook I have several people I went to school with, and I like to see their grandchildren, discuss politics and religion with some of them, and see the world vicariously through their pictures and status updates.
Cookies are made of butter and love ~ Norwegian Proverb
One of my friends was a sweet, quiet, innocent, and kind teenager in junior high. She recently traveled to Hawaii to marry off one of her girls, and I downloaded a few of the wedding pictures and I am using one as the desktop wallpaper on my computer.
Soon after the wedding my guides started talking to me. They asked me to listen to the message of a person in the afterlife they had brought to me. I got the message, but I'm still reluctant to deliver it.
A couple of days later I pulled up a private chat window on Facebook and asked my friend if she had her grandmother's sugar cookie recipe. She told me there were a lot of recipes available on Pinterest, and a couple of other websites. She thought that I wanted a recipe, but I have one – it's been in the family for decades. I did not have the courage to take the matter further.
A week later that push was there again, so I once again pulled up the chat box. Here's how the conversation went:
Indigo: First I need you to understand that I'm not comfortable talking to someone I don't know well. Second, I know that there is no part of your lie that is any of my business, and third, I know you're a pretty private person and I respect that. That being said, just "yes" or "no", is there some drama, trauma or major illness going on in your family right now?
Friend: Oh, you are kind to ask! Not really major. My mom is experiencing decline in health that comes with age and I worry about her. We are in the process of moving north of Austin, Texas. So, life has been somewhat complicated. We just made it through our younger daughter's wedding and our older one has had health and school drama. So, how did you know I have days I feel I'm living a soap opera! Lol!
If cookies be the food of love…munch on ~ Dame Judi Dench
Indigo: That's kind of a long answer, and we can talk about that, but I have one more question, is there a cookie recipe that you got from a grandmother?
Friend: I can't think of one. I have several from my mom who is a grandmother.

Indigo: Okay, there's something about cookies, that would be connected to your mother too, but this grandmother has passed. So, it's likely that your mother got it from her mother. Anyway, that's not important. Your grandmother wants you to know that she's close, keeping an eye on you, your mother and the rest of the family, and that everything will be fine. I know it sounds crazy, believe me I do, but it is what it is. Good luck sweetie!
Friend: Wow. I just realized when you said something about cookies. My mom was just telling me a story about eating pears and ginger snaps with her mom and what a good memory it was. Also my grandmother always had cookies for us to eat at her house. My youngest daughter called her "Grandma Two Cookies" because when she asked if my girls could have cookies I would say, "Just one." She would always say, " Two won't hurt."
Indigo: Lol! I started talking to dead people about six years ago, and I don't like it anymore now than I did when it all started, but my mentor says it doesn't matter what I want, I have to deliver the messages.
Friend: And my grandmother absolutely loved being called Grandma Two Cookies. Thank you!
Indigo: Just be assured that she has her fingers on things, and she's right there with you. You're welcome.
About The Author: Indigo

Indigo is an Indigo child, her gifts have been handed down through generations, and she has used them since she was a teenager. Using a unique blend of, tarot, astrology, numerology, psychology and clairvoyance, she is able to give you the most information in the shortest time possible to help you find a way to change your situation. She has been a spiritual advisor in her community for 20 years and continues her education, while fostering the gifts she has handed down to her grand-children. You can get a reading from Indigo at PsychicAccess.com.


This site uses Akismet to reduce spam. Learn how your comment data is processed.