Are You Experiencing Shared Emotions?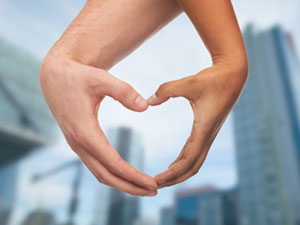 I have noticed that couples and friends tend to experience shared emotions. This entanglement can make two people feel this shared emotion more intensely.
I usually tell my clients. after I have looked into their situation, that it is striking how much they are sharing a particular emotion with their partner or friend. I don't usually know who begins the first thought, but as an illustration, I will cite an example:
Laura feels good about the relationship today. She and Mark had a great visit yesterday, and her spirits are up, but she is not picking up on how Mark really feels. In her mind, as she is feeling happy, Mark is feeling the same way, and she spends a day or two enjoying the good feelings.
Deep down though, Laura doesn't know if Mark is the person for her, and wonders if she should end something now while the going is good. She doesn't usually feel this way in relationships, but she brushes it off to the fact that she may be scared, or feeling nervous about an impending relationship.

In the meantime, Mark did have a great visit, but he is wary of deep involvement. He feels happy, but it makes him edgy or nervous. He thinks of his ex-girlfriend, and how he needs to contact her to sort their relationship out. His true feelings come to the fore. This is because he has been hurt in relationships before, and doesn't process the emotion or rejection and break-ups as easily as Laura does. So, while Laura has been content, he has been quietly brooding.
Laura during this time, ignored every doubt she had. She picked them up, she asked herself the right questions, and she waited for his call.
Mark did try and call but didn't leave a message. He then emailed her telling her he was missing his ex-girlfriend, and that this relationship had left him broken. He wished to call it off. He didn't want the intensity.
Was this coming out of the left field at Laura? Not really. She had ignored her doubts. She had the strongest sense this man was not the one she was looking for, but she went with her 'good vibes' and decided to ignore the doubts.
I strongly believe it takes one event to intensify a relationship's weak points and bring out the true person, or their reaction in the partner. It doesn't matter who felt what first. That feeling was latent. It is deep inside them, and needed a relationship or incident with someone to come out.
In almost half the cases, the client is usually picking up on their own situation. You are empathic! You are picking up the right feelings! Trust your gut. Don't doubt your own fears…they may be your partners. Maybe there was something way off in the distance, you didn't want to listen to? I am helpful in that I can confirm these emotions.
If you listen to your partners fears, you can make this better. You can either prevent getting hurt by being broken up with, or you can talk to your partner about their fears. It may not change them, but it will change the way you handled the situation, making you feel better and stronger if things do change.
About The Author: Carmen Miro

Carmen's waking dreams have provided accurate glimpses into the future for celebrities as well as political and international figures. Her non-judgmental, Empathic approach, as well as her unique method of Tarot reading, affords her the reputation as a groundbreaker in her field. This European born Canadian is the first online psychic to promote the idea of Empathy and emotional thought transference, and she has written a great deal on the subject. For a comprehensive Intuitive reading that will transform your life, you can find Carmen at PsychicAccess.com.