The Art Of Intuitive Reading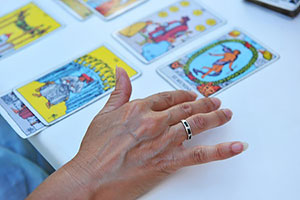 My calling is to be an Intuitive Counselor. I used to be a Marriage, Child and Family Therapist intern in California, but I was told by my Spirit Guides that I needed to go a different direction. So I did. I often do what they tell me, and it usually, if not always, turns out to be a good thing.
All of this happened 36 years ago. I was just about to become licensed as a Marriage and Family Therapist. Then everything changed. I quit my job working with survivors of domestic violence and sexual assault. I continued to study metaphysics and I learned different types of bodywork. I became a Reiki master. I also tried massage therapy and found that that was not what I was meant to do.
Intuition comes very close to clairvoyance; it appears to be the extrasensory perception of reality ~ Alexis Carrel
I also started delving more and more into the Tarot, oracle cards and other divination techniques. After I became very familiar with the Tarot and the cards began to speak to me, I decided it was time to do readings for others. It was nerve wracking at first, but I have never once looked back.
What is it like to give an intuitive reading? For me, it is both exciting and scary. I guess the word that I am looking for is not scary, but anticipatory? I never know where my guides will take us. I never know what areas the client and I will end up talking about.
Typically the client tells me their initial concern, or the issue that is on their mind. I then start the reading by connecting to my Spirit Guides. My Guides may give me information without me drawing any cards, or I may begin to shuffle and lay down cards as the client and I talk.
I like having conversations with my clients. As we talk, I am shuffling my cards and throwing down cards. The cards usually reflect our conversation and provide new insights and perspective changes for the client.
Because my specialties are love and relationships, communication, and past trauma and hurt, those are the issues with which we usually deal. Sometimes I can step out of the way and my Spirit Guides channel through me. And sometimes I listen and convey what they are telling me to tell the client.
God isn't about making good things happen to you, or bad things happen to you. He's all about you making choices–exercising the gift of free will ~ Jim Butcher
I do however find it strange when clients ask me to predict the future, or give them a time frame for a future event. I often put the question back on to them and ask them to take responsibility. I don't say, "take responsibility" but, I do say "if you continue on this path" this is what is most likely to happen. Sometimes clients become frustrated with me, because I don't always answer the way they expect.
You see, I believe in free choice. I don't know if I believe that events in our lives are pre-destined to happen. I think there are a number of timelines happening at the same time and with each decision we make we go down a timeline. Therefore, there are many futures that we can choose from.
For example, if we are married to someone we love, we know that there is a 50% chance that the other person will die before us. I can worry that this will devastate me and that I will never recover if it should happen. And the natural outcome might be that I become ill or filled with anxiety. Or I can choose to have faith that if the worst should happen I will have the resources and support to survive such a terrible event. So, you see, we all have a choice for our future.
So, what is it like to give an intuitive reading? It can be exciting and exhilarating, or it can be sad and frustrating. But one thing is guaranteed. I will always tell what my spirit guides say in the softest and kindest way possible.

About The Author: Mataya

Mataya's Light Readings are a gift from a higher source that she's worked hard to develop throughout her life. She understands more than most what it's like to struggle with emotional and physical roadblocks and with a Masters in Counseling, she has spent many years using her natural psychic gifts and acquired knowledge to see clients through difficult patches. Since 1988, she's professionally guided others, using Tarot and other divination tools, at various psychic fairs in California. She's worked one-on-one with clients in metaphysical shops, and enjoys a successful online practice. She's channeled energies from her guides and passed on accurate information to her clients. A true Sensitive, Mataya takes on the energy of others, feeling and sensing their challenges. Her name came to her out of the blue one day and she has since learned that Mataya mean's God's gift. If you'd like to experience Mataya's incredible gifts for yourself, try a reading with this compassionate and accurate reader. You can find Mataya at PsychicAccess.com.


One Response to The Art Of Intuitive Reading