Your Real Power Lies In Your Own Backyard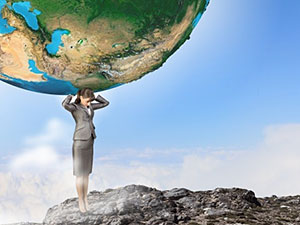 Sometimes we take on the burdens of our loved ones, whether it be a spouse, child or parent. This happens especially if we are highly intuitive or sensitive, or in touch with our psychic abilities.
It's difficult to watch someone make bad choices in their life. We want to step in and help them out, show them the way.  While that may be well and good sometimes, God often has a different plan and we may be interfering with God's work.
It's important for us to remember that we all have our own cross to carry and life path to walk down. God wants us to focus on our own business. Our role on this earth is to be a guiding light, filled with love and forgiveness for ourselves and for others. Our place is not to judge, condemn or control. Sometimes our fears take us down that path. We are afraid that if we don't step in and do something the situation will spiral out of control.
The reason many people in our society are miserable, sick, and highly stressed is because of an unhealthy attachment to things they have no control over ~ Steve Maraboli
I am here to tell you through my own challenges in life that the angels have everything under control, always. Your interfering often times makes things worse instead of better, because there is a thing called natural consequences. And when you step in and intervene you thwart the effects of natural consequences to be experienced by that person.
Honestly, we fret and worry, and worry and fret about loved ones all the time – from our partner, to our children, to our parents. This actually does more harm than good and renders you powerless. Your real power lies in your own backyard. The first place to help others is to start with yourself.
No matter how bad off the other person is, change should always begin with you. Heal yourself. Love yourself. Make yourself a priority in your life. Then you will begin to see with clarity and perspective. Your divine guidance will begin to come in loud and clear. There is no need to fix anything.  The angels have it all under control. There are no mistakes, only opportunities for learning.
When you put all of your time and energy into being the beautiful, loving person God made you to be, you become powerful. That is how you help other people, because it is from that place of power that you approach life with a heart of joy and gratitude instead of worry and judgment. And from that place of love your angels can now work with their angels to help things begin to turn around in their life.
If you knew your potential to feel good, you would ask no one to be different so that you can feel good. You would free yourself of all of that cumbersome impossibility of needing to control the world, or control your mate, or control your child ~ Esther Hicks
Another powerful thing you can do for someone in your life, who may be going through a difficult time, is to pray. Let go of judgments, fear, and guilt, and ask for God's help. When you do this you increase your vibrational frequency and unleash miracles all around you. And guess what? Miracles are contagious!
So if you know of someone who needs a miracle, be a miracle by staying in a place of love and light, instead of doom and gloom. Everything is always exactly as it should be.
And by the grace of God, it is so.
About The Author: Julie

Julie is a psychic Medium, healer, and spiritual educator from Wisconsin with a plethora of metaphysical credentials too long to list here. After her father's passing, almost eighteen years ago, she fully embraced her natural gifts as a psychic Medium and now works full-time helping others all across the globe with spiritual readings and teachings from the beyond. She is the host of two radio shows, the owner of her own healing business since 2007, and heads an online University for international soul development (HSU). Julie is a Channel for Archangel Metatron, delivering clear messages to clients that transform their lives. If you'd like to experience this highly qualified and gifted metaphysician for yourself, you can find Julie at PsychicAccess.com.