The Courage To Make Some Changes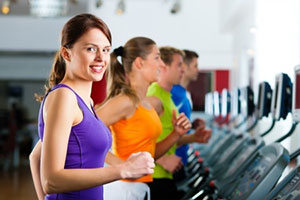 As I have learned throughout my lifetime, as I am sure you have as well, making changes in life is not only necessary, but a constant process. But I am not someone who likes change.
I was a member of a gym for close to eight years. I think it changed the way I looked at other people. I used to enjoy going to the gym four to five times a week, and sometimes more if I felt inclined. But after a while, it took a lot of effort for me to go to my old gym. It just didn't feel like home the way it did in the past.
In the last year, I have not felt like going to that particular gym. I became lazy and unmotivated like I once was towards exercise and life in general. I think, since last September, I felt the need to make the necessary changes in my life, but sometimes your mind or even yourself gets in the way.
If you change the way you look at things, the things you look at change ~ Wayne W. Dyer
I also have a spiritual team of spirit guides and angels who constantly try to help me with such matters of changing. I was being very stubborn, but at the same time I had this inner burning desire to make changes, like going to a different gym and changing my exercise regimen altogether.
Well, I woke up one day and decided to contact the gym down the road. I knew if I liked this particular gym, that I would no excuse that it was too far. I admit I am a creature of habit.
I did it, and I am so glad I did! I remember meeting the owner who happens to be a young woman in her late 20's. She is very fitness conscious, but also has a wide array of knowledge on fitness and nutrition. She has helped me to change so many things in my health. Of course, my number one motivating factor is to feel good about myself and be healthier than I had ever been before.
I think the challenge for me was just to contact this particular gym to see what it was all about. It is smaller and more personalized than my former gym. I also had a really bad experience with a group of people at my old gym, which I am still healing from.  I was a little apprehensive to make this change in lifestyle in general.
" learned that courage was not the absence of fear, but the triumph over it. The brave man is not he who does not feel afraid, but he who conquers that fear ~ Nelson Mandela
The fear of the "unknown" is scary for most people. You don't know what to expect and taking a risk can be in of itself is huge for some. I know that I need a push from my spiritual team, and boy did they push me in this instance!
It has been a few months now since I made the needed changes in my fitness regimen. I feel like a new person. I have even lost some weight, but nothing significant yet. I know that in due time I will reach my goal, but for now I am glad I took a leap of faith.

About The Author: Angelic Amy

Amy's two near death experiences (NDE's) pushed her natal psychic abilities into overdrive and her story is featured in a famous psychic medium's new book! She's experienced a rich life full of more ups and downs than most encounter in a lifetime, which has only helped her connect to her clients on a deeper level. Tapping into her clairvoyant, clairaudient and Mediumship abilities, Amy is a prominent radio show host, has appeared on other radio shows, and is a popular Tarot reader at Psychic Fairs and parties. This native New Yorker is an experienced energy healer, a Reiki Master, and channels gentle Angelic energies through an Integrated Energy Therapy Technique. It's an honor for Amy to help you in your time of need. If that time is now, you can find this gifted psychic at PsychicAccess.com.