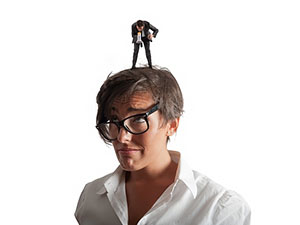 Do psychic messages come 'from' us or 'through' us? This is an interesting question, and an important one. If you believe that messages for our callers and chat room visitors are from their angels, guides and the God Of Their Understanding, and for their highest good, then you also believe as I do that that messages come 'through' us on their behalf.
What comes 'from' us in psychic readings is our skill and ability to interpret these messages correctly, and accurately, using divination systems such as the Tarot, Astrology, coins, tea leaves, crystals, or even every day decks of cards. Also, our gift of simply reading people and their messages comes 'from us'.
I often describe myself to callers, who ask how I do what I do, as being like a telephone. The messages come 'through' me for them from their own higher selves, and from their own belief system. 
The true spiritual aspirant is the one who bears witness to the self in the real world; one who, in a split second, witnesses the thoughts, feelings and emotions that arise in the mind, and is able to either say, "Yes go ahead," or, "No do not go ahead with this course of action." This gives one the opportunity to act in accordance with their higher self at all times ~ Swami Sai Premananda
I really cannot imagine any other way of explaining how the information they need to hear for their highest good manifests, or why. I may get images. I may get names, numbers and directions. I may get sounds, and smells, and feelings. But despite the many ways that messages manifest through us, they are still not from us.
Why is this distinction important? Because suspending our egos and our sense of self, while we do our work, is a key part of how open we are to the messages coming through us. A modest and humble sense of self keeps me from letting my own state of mind and being get in the way of what people need to know.
In other words, psychics and empaths are an instrument of message delivery. We are not the source of the messages being delivered.

PsychicAccess.com.


Heartlight is an "Empathic Coach" with a lifetime of developing of ESP. With 16 years of working as a Psychic Adviser, (the last 7 years of adding Life, Motivational and Relationship Coaching training into the mix), she maintains a very loyal following at PsychicAccess.com. She goes beyond simply sharing messages about things that are hidden from her clients awareness along with information she receives about their future. Heartlight also coaches her callers to use the messages that come through her empathic gifts for their own highest good by blending kindness, humor and wisdom into her readings. Get a reading today with Heartlight at