Tailoring Answers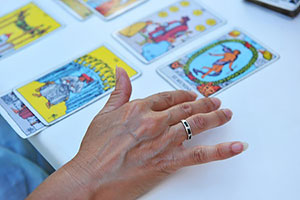 It's interesting asking clients about their work, as it helps me understand the way they need to hear an answer, or why they are asking the questions the way they are. This seems to be the way of deciphering their outcome as well. If I can determine why they ask a question, I will know what the outcome is.
That is why I work with personality analysis through the Tarot. Questions come in types by certain people in certain professions. It is interesting to study questioning and the clients objectives in this manner, thus helping them tailor the way they want to achieve their outcome.
I think psychics come in many different psychological varieties, akin to their personality types. Their world and spiritual views do change the way they analyze the reading. I think this is why I like the Tarot so much, as it can be read in so many different ways. It is like a sculpture or a 3D representation of a an idea. The reader's own personality, quirks and professional experience will deliver the reading in its own particular tone, unique for each person.
Even our own particular personal tastes emerge in the selection of a deck of cards. I have often been surprised to see the choices of cards psychics use. Often it can be a surprise to see someone pull out the deck that symbolizes their energy. It can be an endearing inside look at the way the psychic sees the world.
For example, I like the Hermetic Tarot deck because of its clear black and white silhouette, akin to one of my favorite artists, the turn of the century art nouveau illustrator Aubrey Beardsley. These clear contrasts also make the symbols stand out nicely, in contrast to anything resembling artistic or mystical indulgence. Slightly whimsical, yet affording reverence for the many deep symbols in the cards, they never failed my eyes in the dark late at night on a train, or on a foggy West Coast afternoon.
Some people read incredibly well from two or three cards only. It is like they are scrying into the card and free associating with their subconscious. I am not like that, I am no great meditator. I am more apt to scan rather than read books, so for me pulling out a deck of 78 cards is no issue to me during an eight minute call. Of course, one can go back and discuss and read all the layers. I don't mind that either. Yet, I have some interest in the specialist types of insight that I have seen other readers have. It's like a type of genius.
Someone can even have completely different job and approach reading in their own particular way. A chemist is a visionary of the elements, or a mathematician finds magic in numbers. Some people are good organizers, for example, and someone working as a project manager would have a complete grasp of the situation, structuring and organizing the outcome around key areas that they would be trained to see from their training. For someone perhaps of a poetic or artistic nature this may come about in a more delicate and fluid way. There have never been two readers that I could ever say were completely the same, and often the best have simply the most love for something – anything. This passion from their job would translate well into their reading style.
Perhaps one day it will be part of a curriculum like painting, calligraphy or music used to be in the old days. Perhaps like a matter of course we will use the Tarot to reward us for our particular and most private questions, that this great teacher will adapt to whichever way you wish to receive the news.
About The Author: Carmen Miro

Carmen's waking dreams have provided accurate glimpses into the future for celebrities as well as political and international figures. Her non-judgmental, Empathic approach, as well as her unique method of Tarot reading, affords her the reputation as a groundbreaker in her field. This European born Canadian is the first online psychic to promote the idea of Empathy and emotional thought transference, and she has written a great deal on the subject. For a comprehensive Intuitive reading that will transform your life, you can find Carmen at PsychicAccess.com.