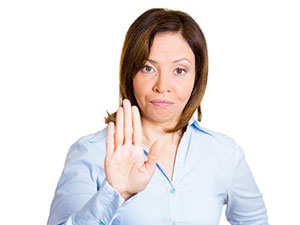 Yes, setting boundaries does pave the way to better relationships! The best way to back up this claim is to share with you an experience I'm having with a new friend.
First, some background. We live in close proximity, each in private quarters. We enjoy each other's company and mostly respect each other's privacy. I love her spontaneity and we spawn that in each other.
Our initial meeting was serendipitous, and as I am learning, so are our respective lives. We "get" each other, although we have lived very different lives.
As we got to know each other, she started to talk about things that were highly personal. She'd knock frantically at my door, even when the "Reading in Progress" sign was on the door – just to ask my opinion on which dress she should wear. I moved the sign higher, because she's tall and I thought maybe she couldn't see it.
Boundaries aren't all bad. That's why there are walls around mental institutions ~ Peggy Noonan
Once inside my apartment, she would freely open my refrigerator door and help herself to food. Not just food, but also the little expensive delicacies I have on hand as personal treats. On one occasion I was sharing with her some hazelnut butter with chocolate swirls. She disappeared for awhile, and came out of the kitchen with "guilt" written on her face… much as a child does when she knows she's done something wrong! After she left I went into the kitchen to clean up and found an empty container —hazelnut chocolate swirl treats… all gone!
Along with the accumulation of these and other such intrusive experiences with her, I felt dread when seeing her. I felt a knot in my throat. Rather than allowing myself to be angry and sick, I decided to tell her head-on that these actions violated my boundaries and made me uncomfortable, and to ask her to regard my sensitivities.
I knew without a doubt that telling her directly and all at once would not have the positive effect I'd hoped for. I also decided that if she could not respect my boundaries, then I'd be willing to lose the "friendship." I wanted to act not out of anger, but with mindfulness that commanded respect for my boundaries. I also decided to say something next time it happened.
My honesty stopped her mid-sentence. She never apologized. She changed the subject. She "got" it until the next time. If she were truly a friend, she would want to please me, not upset me?
Evaluating the benefits and drawbacks of any relaitonship is your responsibility. You do not have to passively accept what is brought to you. You can choose ~ Deborah Day
I was inspired to write this blog because I receive a high percentage of calls about relationships. Conflict occurs when the other person is not mindful of your feelings, or of how their behavior affects you when it is upsetting, even if you have expressed your desires.
Often, clients are afraid to set boundaries for fear they'll lose contact with the other person. Yes, this is a possibility. But why allow yourself to be upset?
When you really love someone as a boyfriend, a spouse, a friend or a family member, and they continually repeat undesired behavior, it is time to reclaim yourself. Setting boundaries defines the way you expect others to treat you. And believe me, it raises your confidence.


PsychicAccess.com.


As a conduit to Spirit since birth Dianna provides channeled information from her Guides, Archangels, Ascended Masters & Animal Spirits. During readings, information comes to her through telepathy, empathy, visual images and physical sensations. She additionally uses Automatic Writing for very specific details and timing, Tarot and the Lenormand Cards. Dianna's specialties are providing you with remarkably accurate answers to your questions using her psychic consciousness to assist you in reaching new and rewarding goals. A Libra/Aquarius rising with three grand trines in her chart, Dianna has chosen to use her psychic gifts and Reiki Healing Energy to help others, providing practical answers to life's questions plus healing and clearing blockages. You can get a psychic reading from Dianna at