The Big Question Of Timing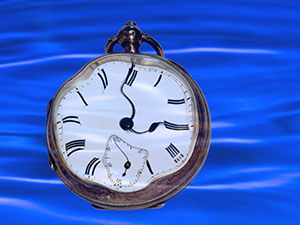 Over the many years I have been doing psychic readings, the big question of "when" has come up on a daily basis, and still continues to do so. I personally do not like to answer these time-related questions.
The question of time is my greatest challenge as a reader. I feel uncomfortable and awkward, since the client has a certain expectation as to that particular prediction, and the timing of it all.
Why are we so fixated on time? Why are we so obsessed with the future?
When will he call? When will I see her again? When are we going to be engaged? When are we getting married? These are only a few examples of the many questions about timing that I receive on a regular basis.
Yesterday is gone. Tomorrow has not yet come. We have only today. Let us begin ~ Mother Teresa
I have asked my spirit guides on numerous occasions about the question of timing. Their answer never surprises me, as they will tell me that in all due time things will occur. My one guide persistently tells me there is no timing on the other side. Timing is a man-made function.
Although I've been told by my clients that I am pretty accurate with timelines, I find it very difficult to make such predictions. If I do receive information in response to the question I often see numbers. I do not try to interpret those numbers for my callers.
I don't know why some of us are always trying to get "there" in a hurry. All things do come in their own timing. I learned a long time ago that everything shows up when it is supposed to. It shouldn't matter all that much if your significant other will call you tomorrow, or the day after. And is there truly so much difference if he asks you to marry him next month, or next year? It will happen when it is supposed to happen.
In the landscape of time, there are few locations less comfortable than that of one who waits for some person or event to arrive at some unknown moment in the future ~ Robert Grudin
Sometimes I tell my callers that if it's meant to happen it will happen. You do not get a chance to relive the special times of the present moment. I find it sad that people are so fixated on timing, when they can live in the present moment and enjoy the ride.
You may not get the chance again to savor every moment of everyday if you are so focused on the future, instead of the here and now. I learned throughout my years of doing readings that the present moment is all you have. So, the next time you feel like asking the question of "when," ask yourself if you really need to know the timing. Why not just enjoy the journey?
About The Author: Angelic Amy

Amy's two near death experiences (NDE's) pushed her natal psychic abilities into overdrive and her story is featured in a famous psychic medium's new book! She's experienced a rich life full of more ups and downs than most encounter in a lifetime, which has only helped her connect to her clients on a deeper level. Tapping into her clairvoyant, clairaudient and Mediumship abilities, Amy is a prominent radio show host, has appeared on other radio shows, and is a popular Tarot reader at Psychic Fairs and parties. This native New Yorker is an experienced energy healer, a Reiki Master, and channels gentle Angelic energies through an Integrated Energy Therapy Technique. It's an honor for Amy to help you in your time of need. If that time is now, you can find this gifted psychic at PsychicAccess.com.