Energy Goes Where Thoughts Flow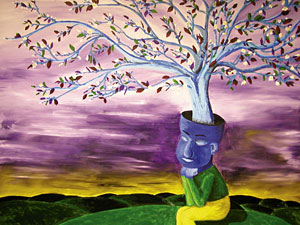 For events that are important to us there will always be thoughts of doubt that creep into our consciousness.
What if I don't get the job?
How does he really feel about me?
What if she loves me only for my money?
Will I find a place to live by a certain date?
If any of this sounds familiar, it's because you're human!
I tell my clients that's it's alright to have concerns, doubts and fears. The important part to remember is to not allow your uncertainties to dominate your thinking. By using the word "allow" I am telling the truth: you can control these thoughts and put them in their proper place in your life, rather than letting them dominate.
A belief is only a thought that you keep thinking. So as you keep thinking this thought, you keep vibrationally attracting relative to that thought ~ Abraham-Hicks
By focusing on the worst-case scenario we put a message out to the Universe, and like a magnet that's what we attract. Even though a psychic prediction shows a positive outcome, it's not fixed. Life is constantly ebbing and flowing like the tides, so you and the other person's have the ultimate control.
I've seen this happen.
A man wants to be reunited with his loved one and has expectations that they will marry. Psychic predictions from several psychics say they will be married. But the man, assured that his dream will come true, but still afraid it won't, starts to interfere with his loved one's personal affairs, and sends mean text messages against all advice. She said if he didn't stop, she'd change her number. She meant it. End of relationship.
A woman has to pass a test to reach a higher salary grade. Financial conditions are dire, so there's a certain desperation she feels. Her fear takes over that she starts imagining the horror of homelessness. I helped her with positive affirmations, meditations, how to replace those fears with the memory of confidence she once felt. I gave her a mental image of a shelf of labeled glass jars with lids. She was to write on a piece of paper each fear she had. Then, when the negative thoughts started taking over, she could put the piece of paper in the glass jar, close the lid and put it on the shelf. She would tell herself that when she wanted to, she could get back to it later. But in the meantime she replaced the negativity with positivity and the belief that she would attain her desired outcome. It takes self-discipline and hard work to change underlying beliefs. The first two times, she missed by one and two points. The third time was a charm!
You are given the gifts of the gods, you create your reality according to you beliefs. Yours is the creative energy that makes your world. There are no limitations to the self except those you believe in ~ Seth
There are so many examples I can cite, including those from my personal life. I just bought a lovely, large home with lots of land. Knowing my budget, you'd say: "Impossible!" That's what five out of six realtors said, so I fired them and finally went with one who believed that everything is possible. Believe me, I had to employ all the techniques I share with my clients, because I'd been looking for the right house nine months and it was easy to lapse into negativity.
The nagging negativity was: "What if I don't find a place and have to rent and pay someone else's mortgage, and spend all my savings trying to make myself feel better?"
After arguing with myself, I  re-directed the negativity toward doing projects that reinforced my goals. I looked at floor plans online. I picked my favorite three and narrowed it down to one. I drove around neighborhoods. I bought a red, whistling tea kettle at a garage sale! I picked out color schemes at the paint store. I pictured the neighbors I wanted: nice, friendly, welcoming. I did this instead of focusing on past experiences with whacked-out neighbors.
While unpacking the other day I found the floor plan. Guess what? Same layout with exception of garage location. And the manifested one is actually better!
I give thanks to my Guides, my beliefs, and to the Universe.
About The Author: Dianna

As a conduit to Spirit since birth Dianna provides channeled information from her Guides, Archangels, Ascended Masters & Animal Spirits. During readings, information comes to her through telepathy, empathy, visual images and physical sensations. She additionally uses Automatic Writing for very specific details and timing, Tarot and the Lenormand Cards. Dianna's specialties are providing you with remarkably accurate answers to your questions using her psychic consciousness to assist you in reaching new and rewarding goals. A Libra/Aquarius rising with three grand trines in her chart, Dianna has chosen to use her psychic gifts and Reiki Healing Energy to help others, providing practical answers to life's questions plus healing and clearing blockages. You can get a psychic reading from Dianna at
PsychicAccess.com.


2 Responses to Energy Goes Where Thoughts Flow