Staying Sane In My Crazy World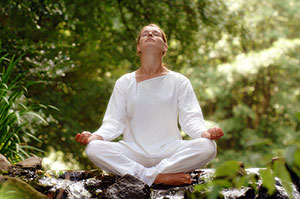 A couple of months ago I wrote about how my mammogram had shown some calcification in one of my breasts. I am a breast cancer survivor and my doctor wanted to make sure that it was not a problem. So I had a biopsy.
I discussed in my last post how I was preventing panic from overtaking me by staying in the now. Whenever I would start to worry or have anxiety, I would remind myself the time and the day it was and I would remind myself to stay in the now. There is no future or past… only now. That stilled my mind and turned off the anxiety, and stopped my worry.
My anxiety could have easily been increased, because my oncologist was packed full of patients due to an emergency in his private life. But I needed my results and I did not want to wait several more weeks to get them. You see, he does not give results over the phone and he likes to give them himself.
Feelings come and go like clouds in a windy sky. Conscious breathing is my anchor ~ Thích Nhất Hạnh
I was beside myself thinking that I was going to have to wait for five minutes worth of info. But things worked out and I was able to get the results from a nurse practitioner. The reason I could get them was because they were negative. Negative! Yes, you read that right. I am still cancer free. I love those words: "There was no evidence of cancer in this patient."
My technique of staying in the now and stilling the mind came from one of my classes I am taking for my Masters degree in Metaphysical Sciences at the University of Metaphysical Sciences. The author talks about how, when you stay in the now and still your mind, you can hear God clearer. I really found this to be true. These techniques worked in getting the results of my biopsy… imagine what other areas would be helpful?
I find that when I am short on finances and money is getting very tight in my home it helps to use the "stay in the now and still the mind" technique. It prevents me from going into worry and fretting about where I am going to get money for food. You see, my husband and I are starting a new business and it is just a baby. We are dependent on other companies paying their invoices. It can be a scary place to be but, I find staying in the now and stilling the mind to be very helpful.
The gift of learning to meditate is the greatest gift you can give yourself in this lifetime ~ Sogyal Rinpoche
I also use it when I have a sick pet. I love my animals and I am very caring to them. I have three dogs and a cat, and a husband…wait my husband should not be in that list! He tries to use this technique too. I find meditation can help to still the mind.
Now if you have ever talked to me you will know that I am not the most dependable meditation person.  I forget it much of the time, but it makes a huge difference when I am diligent.  I can even remember my dreams when I meditate and that is amazing.  I rarely remember my dreams, but when I meditate it seems to transform me.  Why can't I remember to do it when it helps me so much!  This is forever a question.  Why do we not do things for ourselves when we know they are so helpful?  But I'm afraid that is a subject for another blog post.
I have found that I can't help others if I don't help me first.  I have to be there for myself, before I can be there for others in any beneficial capacity.  My specialty is love and relationship and communication.  People also seem to like to talk to me about past hurts they have survived.  I am here for you if you choose to use me.

About The Author: Mataya

Mataya's Light Readings are a gift from a higher source that she's worked hard to develop throughout her life. She understands more than most what it's like to struggle with emotional and physical roadblocks and with a Masters in Counseling, she has spent many years using her natural psychic gifts and acquired knowledge to see clients through difficult patches. Since 1988, she's professionally guided others, using Tarot and other divination tools, at various psychic fairs in California. She's worked one-on-one with clients in metaphysical shops, and enjoys a successful online practice. She's channeled energies from her guides and passed on accurate information to her clients. A true Sensitive, Mataya takes on the energy of others, feeling and sensing their challenges. Her name came to her out of the blue one day and she has since learned that Mataya mean's God's gift. If you'd like to experience Mataya's incredible gifts for yourself, try a reading with this compassionate and accurate reader. You can find Mataya at PsychicAccess.com.