The Elderly Man And The Hairbrush – Part Two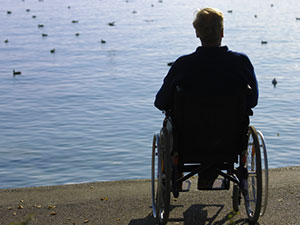 << Continued from Part One
At this point every eye in the place darted right at her. She was the only thing in the room looking more peculiar than old Mr. Long Locks. Face crimson and forehead breaking out in a sweat, Beth watched him look at her with absolute shock on his face, and say "If you really want to."
Are you kidding? Of course, she didn't want to, but Spirit didn't seem interested in her personal preference right about then and pressed on her heart until she could utter the words, "Yes, sir, I would be pleased to, but I have one little problem. I don't have a hair  brush." He responded, "I have one in my bag."
No one has ever become poor by giving ~ Anne Frank
Beth went around to the back of that wheelchair and got on her hands and knees and unzipped the stranger's old carry-on, hardly believing what she was doing. She stood up and started brushing the old man's hair. It was perfectly clean, but it was tangled and matted, so she started brushing at the very bottom of the strands remembering to take her time not to pull.
She says that a miraculous thing happened to her when she started to brush his hair. Everyone else in the room disappeared. There was no one alive for those moments except the old man and herself. She brushed and brushed and brushed until every tangle was out of his hair.
Beth reports that she has never felt that kind of love for another soul in her entire life. She believes with all her heart that for those few minutes she felt a total release of human negativity. Finally, the elderly man's hair was as soft and smooth as an infant's.
She slipped the brush back in the bag and went around the chair to face him. Beth got down on her knees and said, "Sir, do you know Spirit?" He said "Yes, I've known the Divine since I married my bride. She wouldn't marry me until I understood the Sacred Energy of the Universe".
Then he said, "You see, the problem is, I haven't seen my bride in months. I've had open heart surgery and she's been too ill to come and see me. I was sitting here thinking to myself, what a mess I must be for my bride."
If we have no peace, it is because we have forgotten that we belong to each other ~ Mother Teresa
Only Spirit knows how often we're allowed to be a part of a Divine moment when we're completely unaware of the significance. This, on the other hand, was one of those rare encounters when Beth knew the Universe had intervened and allowed her a glimpse.
Their time came to board, and they were not on the same plane.  Beth felt deeply ashamed of how she'd felt earlier and would have been proud to have accompanied him on that aircraft.
She still had a few minutes, and as she gathered her things to board, the airline hostess returned from the corridor, tears streaming down her cheeks. She said, "That old man's sitting on the plane, sobbing. Why did you do that? What made you do that?" Beth said, "Spirit can be the bossiest thing!"
She learned a lot that day. Spirit knows if you're exhausted, hungry, serving in the wrong place, or if it is time to move on, but you feel too responsible to budge. The Universe knows if you're hurting, feeling rejected or if you're sick or drowning under a wave of temptation, or if you just need your hair brushed.
The Divine sees you as an individual. Tell Spirit what you need.
Beth got on her own flight, sobs choking her throat, wondering how many opportunities just like that one she had missed along the way…all because she didn't want people to think she was strange. She realized Spirit didn't send her to that old man.  The Universe sent that dear elderly gentleman to her.

About The Author: Mountain Sage

Mountain Sage's profession is Metaphysical Academics. Her extensive training includes Oracle, Healing, Universal Laws & Principles, the Sacred Circle and Psychic Shielding. Focus includes Ascended Masters, Altars, Minerals, etc. She holds the great honor of Oracle Carrier by her tribe due to her outstanding psychic ability, passion for the psychic realm, integrity and sacred work. Get a psychic reading with Mountain Sage at PsychicAccess.com.