In Memory Of My Father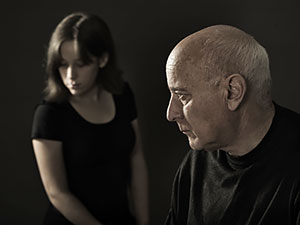 On Mother's Day I was thinking of my father. He passed away last year on August 31, 2013, after battling an illness that lasted over two years. Our relationship was the most strained one I had with any of my family members. His presence in my life also guided me towards finding the gift of forgiveness.
It is my experience that those who do not speak of the past do not wish to relive it either. My father was one of those people. I never realized what he held back until I started learning about him as a person. It wasn't until I moved out on my own, and lived above my aunt, that I came to really know my father. My aunt told me many childhood stories of his abuse. My father was the third of seven children and he was the middle child. His father who was an abusive alcoholic who blamed him for many years for an incident that was in fact his older brother's fault. My aunt witnessed a horrific beating during which my dad was reduced to a bloody pulp.
The life of the dead is placed in the memory of the living ~ Marcus Tullius Cicero
After I had learned about the abuse my father was subjected to as a child, I was able to have more compassion for him. Not that he was excused from the verbal and emotional abuse he had subjected me to growing up, but it help me to gain some sort of understanding about him.
Our relationship towards the end of his life got better. It felt like he was more "present," but he still could be a jerk at times. I must give him credit that he helped us get a mortgage for our current home. He got along with my husband and even helped him with some needed repairs around our house. He was also very helpful when it came to my relationship with my mother.
It was not a shock to me, nor a surprise, that he eventually fell ill with congestive heart failure. I witnessed a man who was strong-willed go into physical decline quite quickly. I did my best to be there for him. I accompanied him on numerous doctor's consultations, emergency room visits and extended hospital stays. I made sure during that time my father knew I loved him, even though he could not say it back. I did it more for me than him. I wanted no regrets on my part.
When my father was nearing his earthly departure, I knew it. My mother had a tendency to deny his illness, but I knew it wouldn't be long when he entered into the hospital at the end of last July. I remember the last time I saw him. He was unable to speak as the doctor found lung cancer. I said goodbye to him telling him I would see him on the other side.
Communicate. Appreciate. Validate. Evolve ~ John Edward
It would be two weeks later that I received the call that he had passed on. I remember that Saturday evening feeling like it was his time to go. I remember calling on his angels and spirit guides and those around him, like his deceased mother, urging them to help him cross over. I was telling him in my thoughts that it was time to go. It was only five minutes later that I that I received the call with the news of his passing.
I don't feel it was selfish for me to wish him well. I did not like to see my father in pain. I feel no one should ever suffer like he did towards the end of his life, but that was his fate.
I remember him asking me what it was like for me to "visit" the other side and what death was like. I told him straight out to go to the light, as he would find peace and an end to the suffering.
As for me, I have no regrets as I have dealt with his passing as best as I could. I said what I needed to say for me and to let him know that no matter what had occurred between us that I still loved him!

About The Author: Angelic Amy

Amy's two near death experiences (NDE's) pushed her natal psychic abilities into overdrive and her story is featured in a famous psychic medium's new book! She's experienced a rich life full of more ups and downs than most encounter in a lifetime, which has only helped her connect to her clients on a deeper level. Tapping into her clairvoyant, clairaudient and Mediumship abilities, Amy is a prominent radio show host, has appeared on other radio shows, and is a popular Tarot reader at Psychic Fairs and parties. This native New Yorker is an experienced energy healer, a Reiki Master, and channels gentle Angelic energies through an Integrated Energy Therapy Technique. It's an honor for Amy to help you in your time of need. If that time is now, you can find this gifted psychic at PsychicAccess.com.


2 Responses to In Memory Of My Father